Volume 7, Number 2 (July 2009)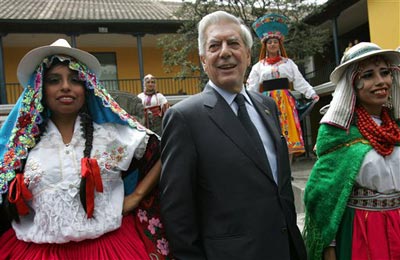 Peru's writer Mario Vargas Llosa poses with folkloric dancers at the city's museum in Quito, 19 June 2007. Vargas Llosa, who is researching the Irish nationalist Roger Casement for his next novel, was named 'distinguished guest' of Quito.
(AP Photo/Dolores Ochoa)

Literature, Arts and Culture
Guest Co-Editors:
Laura Izarra, University of S"o Paulo
Patricia Novillo-CorvalŠn, Birkbeck College, University of London
This issue will explore the literary, artistic, and cultural interactions between Ireland and Latin America, Spain, and Portugal. This complex interplay has contributed towards the creation of a long-standing dialogue, a reciprocal cultural exchange which has fostered strong and enduring links, and has woven a tapestry in which we can observe the myriad figures, letters, and places that have emerged from the confluence of different languages, artistic expressions, and cultural spheres. Irish artists, writers, and philosophers have cast their powerful spell in the Latin American imagination, as well as in the Iberian Peninsula. Equally significant is the inverse phenomenon, whereby the Irish have looked onto the Hispanic world, Portugal, and Brazil as an inexhaustible source of inspiration and enrichment for a wide range of creative endeavours. Contributions will be drawn from the fields of fine arts, music, theatre, cinema, photography, literature, travel writing and the humanities. Inter-disciplinary studies are also welcome and should make further explorations, including Latin American, Spanish and Portuguese writers and artists settled and working in Ireland, Irish cultural diaspora, and aspects of teaching Irish Literature, Arts and Culture in Latin American countries and in the Iberian Peninsula. We also welcome book, exhibition, theatre and film reviews. Articles in English must be emailed to the Guest Co-Editors (literature@irlandeses.org) no later than 27 May 2009 (articles in other languages no later than 27 April 2009).
Guest Co-Editors
Laura Izarra, Patricia Novillo-CorvalŠn
literature@irlandeses.org

---

Editors
Edmundo Murray, Claire Healy

Production Manager
Juan Pablo Alvarez Pearce

---

Irish Migration Studies in Latin America