Volume 7, Number 1 (March 2009)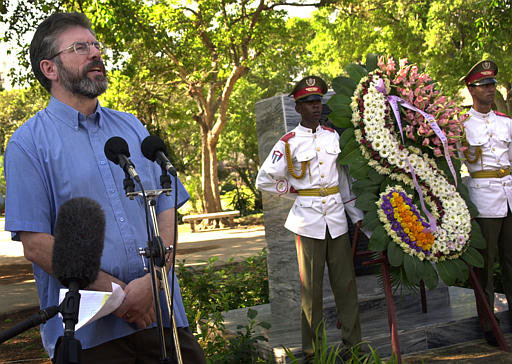 Gerry Adams of Sinn Féin party from Northern Ireland during a four-day visit to Cuba
(AP/Cristóbal Herrera, 2001)

The Irish in Latin American Politics,
Government and Diplomacy
Guest Co-Editors:
Jorge Cernadas Fonsalías, Universidad de Buenos Aires
Carolina Barry, Universidad Nacional de Tres de Febrero
The editors of Irish Migration Studies in Latin America invite contributions for the March 2009 issue (volume 7, number 1). Articles on any aspect of Irish involvement in Latin American politics, government and diplomacy will be considered for publication. This special issue will focus on the roles played by the Irish and their families in political movements, public administration and policy, parliamentary politics, community, labour or regional leadership, peace and human rights activism, law reform, guerrilla and revolutionary movements, political conspiration and civil war, contributions to political theory, civil service, and diplomatic and international relations. The issue covers Latin American and Caribbean countries and territories, as well as Portugal and Spain, in any period. Contributions will be drawn from the fields of political and other social sciences, history and the humanities, among other disciplines. We also welcome book, film and website reviews, biographies and edited source material. Articles in English must be emailed to the Guest Co-Editors (politics@irlandeses.org) no later than 21 January 2009 (articles in Spanish, Portuguese, French or German no later than 22 December 2008).
Guest Co-Editors
Carolina Barry, Jorge Cernadas Fonsalías
politics@irlandeses.org

---

Editors
Edmundo Murray, Claire Healy

Associate Editor
Patricia Novillo-Corvalán

Production Manager
Juan Pablo Alvarez Pearce

---

Irish Migration Studies in Latin America