Imperial frontiers also provided areas where the colour line might waver. Edward Marcus Despard, from a military family in Queen's County (present-day County Laois), spent the greater part of his professional career in Jamaica. After the American Revolutionary War, he fought in Honduras, where he led forces that comprised Native Americans and Afro-Caribbeans. Appointed Superintendent on the Muskito Coast (later British Honduras) in 1787, he fell foul of the 'Bay men' who protested to Westminster that he treated 'the meanest mulatto and free Negro' as though he was a white man (Burns 1965: 541).
Recalled to London, Despard failed to get another official appointment and ended up in the debtors' prison, where he read Tom Paine and took to radical politics. He joined the United Irishmen and attempted to recruit United Britons and so co-ordinate a republican risings in both countries. In 1797 suspicion of his activities resulted in his arrest and internment. In 1803 (the year of Robert Emmet's rebellion in Ireland), he was hanged for organising a plot to assassinate King George III (O. DNB 2004, 15: 906). Despard's story, individual and dramatic, reflects the tensions created by this revolutionary period. In the 1790s, the French colony of Saint Domingue was to see these factors played out at their most extensive and explosive.
The outbreak of revolution had caused quarrelling among the propertied groups in the colony - grand blancs, petit blancs and property-owning mulattoes. The desire of these groups to follow their own interests in order to dominate the wealthy colony had given the slaves the chance to rebel. In this situation, Victor Martin O'Gorman (born County Clare, 1746) emerged as a leading figure. Starting his career in the Irish Brigade, he had become aide-de-camp to Count d'Argout, governor general to the French colonies in America, a position which enabled him to acquire a substantial plantation in Saint Domingue's southern province. In 1790 he was elected as one of the colonial representatives despatched to Paris to serve in the National Assembly.
As planter, assembly man and soldier, he helped to organise the Irish brigade (now officially known under the new constitution as Eighty-Seventh, Eighty-Eighth and Ninety-Second regiments of infantry) to form part of the expeditionary force to put down civil war in Saint Domingue. In 1792 Dillon and Walsh's regiment fought and lost an engagement against a rebel army (largely of African origin) in the southern province at Les Plantons. During this engagement, O'Gorman armed and led a group of his own slaves as did his planter neighbour, the resident 'milord' Walsh, who was caught, tortured and beheaded by the rebels.
When news of this defeat was received by the colonial assembly, they declared it 'the finishing stroke to the whole colony'. Captain Oliver Harty of the Berwick regiment was then appointed acting commander of the southern province and organised a campaign to avenge the loss at Les Plantons. For this deed, he was lauded by the southern provincial assembly as 'a good and brave patriot' and denounced by his critics for conducting a massacre of old men, women and children. A new governor, Sonthonax arrived from France and assessing the situation in the colony came to the conclusion that the rebel slaves would in fact make the best republicans. He thus removed Harty from his command, declared slavery illegal, and appointed Toussaint L'Overture, an African Creole general and former slave from a Butler plantation, as commander and chief.
Back in Europe, the Irish Brigade persuaded the Prime Minister William Pitt the Younger to support the Bourbons by fighting with the French. Their offer was accepted. The leaders of the brigade had hoped to fight in Europe but instead became part of the British invasion of Saint Domingue. Victor Martin O'Gorman fought with General Maitland against the French colonial government which had emancipated the colony's slaves, leading a unit known as O'Gorman's Chasseurs Noirs (black hunters) dedicated to restoring slavery and monarchical rule in Saint Domingue (Hayes 1949: 232). This campaign, stretching from 1794 to 1798, ended in the defeat and withdrawal of the British, by which time savage fighting and rampant disease had annihilated the Irish brigade.
The horrors of Saint Domingue had driven Britain to employ people of African origin as combatants. The exigencies of war now required that this policy be extended as French activity in the Leewards and Windwards led to the development of an eastern Caribbean front. In 1795, to the unease of the British planters, eight West India regiments, drawing on Afro-Caribbean recruits, were established. All commissioned officers, who of course had to pay for their appointments, were white, and half of these were Irish or Scots (Lieutenant-Colonel John Skerret was the commander of the Eighth Regiment). While the rank and file were in the main black or mulatto, each regiment was constructed around a nucleus of European corporals, sergeants and drummers.
Incomplete copies of enlistment books which survive suggest a heavily Irish presence. The first fifty-two names and backgrounds of those enlisted in the Fourth West India Regiment show fifty-one whites, the majority of them coming from Cork, Dublin, Tipperary, Galway and Waterford. Some of the older sergeants had from eighteen to twenty-nine years experience under the belts (Buckley 1979: 31). So in the eighteenth and early nineteenth century, we see a common pattern of Irish being used as white buffers. As bonded servants, the Irish worked close to, but in distinct groups from, Africans. Personal contact might result in friendship and good feelings, but on the whole the Irish held and benefited from the existence of the colour line.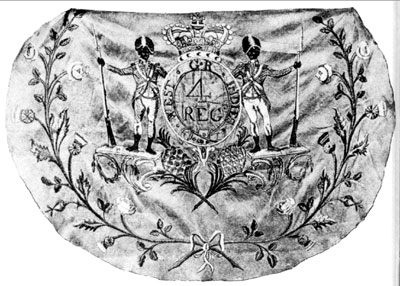 Regimental Colours, Fourth West India Regiment 1795.
Conclusions
The Caribbean never achieved iconic status as a destination for Irish emigrants.
For Catholics who stayed put service with the kings of continental Europe was common. The West Indies, when remembered at all, struck a sinister note as a place of sentence for the transported. Yet for some, it had become home and for others a springboard for migration to mainland America. For Ulster Presbyterians, for example, North America became the Land of Canaan. The Antilles was often a place of opportunity; through Caribbean activities, Antoine Walsh and Nicholas Tuite became the friends of kings. Sugar and slaves shaped urban development in the expanding ports of Cork, Limerick, and Belfast and in Dublin their existence impacted on Ireland's parliamentary politics (Rodgers 2007:119-196).
From the seventeenth to the nineteenth century the Irish could be found at every level of white society in the Caribbean, one that by the twentieth century was ebbing away. In the case of the other Europeans (Spanish, French, British, Danish and Dutch) remnants of their presence remained among the islands, recorded sometimes in a reduced but lingering governmental presence, more obviously in architecture and language. However, the Irish, working through the empires of others, have left no such visible marks. Their one memorial is the names they planted – only possible to discover in Cuba, Trinidad, Saint Domingue, and most noticeable in the Leewards and Jamaica. These surnames are now sometimes borne by descendants of Africans, occasionally carrying a genetic imprint from the original owners from generations past.
Nini Rodgers
Honorary Senior Research Fellow
School of History and Anthropology, Queen's University Belfast
References
- Akenson, Donald, If the Irish Ran the World (Liverpool, 1997).
- Applby, J.C. 'Women and Piracy in Ireland: from Grainne O'Malley to Anne Bonny' in Margaret MacCurtain and Mary O'Dowd, (ed.) Women in Early Modern Ireland (Dublin, 1991).
- Beckles, Hilary 'A "Riotous and Unruly lot": Irish Indentured Servants and Freemen in the English West Indies, 1644-1713', William and Mary Quarterly, 47:4 (1990), pp. 503-522.
- Bherendt, Stephen D, Liverpool's contribution to the slave trade, unpublished conference paper for "Liverpool and Transatlantic slavery," 13-15 October 2005.
- Blair Papers, Public Record Office Northern Ireland, D717/24, Accounts, 30 June 1793.
- Buckley, Roger Norman, Slaves in Red Coats, the British West India Regiments, 1795-1815 (Yale, 1979).
- Burns, Alan, History of the British West Indies (New York, 1965).
- Chandler, A.D. 'Expansion of Barbados' in Barbados Museum and Historical Society Journal, nos. 3/4 (March-Oct. 1946).
- Cullen, Louis M. 'The Irish Diaspora of the Seventeenth and Eighteenth Centuries' in Nicholas Canny (ed.) Europeans on the Move, Studies in European Migration 1500-1800 (Oxford, 1994).
- Fannin, Samuel, 'Alexander "Bloody" O'Reilly a monster of fortune', in History Ireland, 9:3 (2001).
- Fenning, Hugh (ed.), 'The Mission to St Croix in the West Indies: 1750-1769; Document from the Archive of San Clemente, Rome, in Archivium Hibernicum, 25, 1962.
- Hayes, Richard F., Dictionary of Irishmen in France (Dublin, 1949).
- Higman, B.W. 'The West India "interest" in parliament, 1807-1833' in Historical Studies, 13: 49 (Oct. 1967).
- Holohan, Renagh, The Irish Chateaux, in search of the descendants of the Wild Geese (Dublin, 1989).
- Hurst, Ronald, The Golden Rock, an episode of the American War of Independence (London, 1996).
- Johnston Lik, Edith Mary History of the Irish Parliament 1692-1800, 6 vols (Belfast, 2002).
- Lorimer, Joyce (ed.), English and Irish Settlement on the River Amazon 1550-1646, Hakluyt Society (London, 1989).
- Madden, Richard Robert, A Twelve Months Residence in the West Indies during the transition from Slavery to Apprenticeship, 2 vols (London, 1835).
- Miller, Kerby A, '"Scotch Irish", "Black Irish" and "Real Irish": Emigrants and Identities in the Old South,' in Andy Bielenberg (ed.), The Irish Diaspora (Longman, 2000).
- Oliver, Vere Langford, Caribbeana, 6 vols (London, 1909-19).
- Oxford Dictionary of National Biography, 2004.
- Parliamentary Sessional Papers, 1837-8, vol. 48, uncontested claims for British Guiana, Jamaica, Montserrat.
- Richardson, David 'The British Empire and the Atlantic Slave Trade 1660-1807' in W.R. Louis (ed.), The Oxford History of the British Empire (Oxford, 1998).
- Rodgers, Nini, Ireland, Slavery and Anti-slavery 1612-1865 (Palgrave, 2007).
- Sheppard, Jill, The"Redlegs" of Barbados, Their Origins and History (New York, 1977, p.14, p, 25).
- Tillyard, Stella, Aristocrats, Caroline, Emily, Louisa and Sarah Lennox, 1740-1832 (London, 1995).
- Thomas, Hugh, The Slave Trade, (London, 1997).
- Thurloe, John, Collection of State papers 1638-1660, 7 vols. (London, 1742).
- Van Brock, F.W. 'The defeat at les Plantons' in The Irish Sword, 13 (1977-79).