Deeply moved by these revelations, Madden offered the family what little he could by way of financial assistance. On the tiny Derry plantation nearby, he discovered the exact site where, forty years earlier, one of his uncles, old Garrett Forde, was laid to rest. With a sense of Shakespearian irony, he observed that the soil covering the spot had begun to sprout the planter's beloved sugar canes. Undoubtedly, the unforeseen encounter with his Jamaican relatives had a profound impact on Madden, infusing him with an even greater desire to eradicate slavery in all its forms (Madden 1891).
Much to the dismay of colonial officials preoccupied with the 'sacred rights of property', as Special Magistrate, Madden viewed emancipated slaves as British subjects, entitled to all the protections enjoyed by white subjects under the law. The duties of the Special Magistrates under the 1833 Abolition Act were 'extensive but vague' (Burn 1937: 203); they had exclusive jurisdiction over relations between apprentices and their former masters. The arduous workload involved regular tours of inspection on horseback over a rough terrain, frequently mountainous, covering a radius of as much as thirty miles.
Duties included regular visits to jails and workhouses. The Special Magistrates were required to fix the value of slaves who wished to purchase their freedom. They also had to find suitable locations to hold court. When there was a dispute, Madden insisted upon equal treatment of apprentices in his court, refusing to hear cases in which coercion had been used to bring the accused before him. In response, he faced obstruction by the powerful Council of Kingston, which maintained its own police force and resented the imposition of Special Magistrates by the London government.
In the course of his duties, Madden befriended Benjamin Cochrane, otherwise known as Anna Moosa or Moses. A native Arabic speaker and son of a Mandinka chief, Anna Moosa was a skilled doctor with a practice in Kingston where he administered popular medicine, demonstrating considerable expertise with medicinal plants. Madden also struck up a friendship with Aban Bakr Sadiki (Al-Saddiq), a Muslim scholar and native of a region bordering Timbuktu, who had been kidnapped thirty years earlier, transported to Jamaica, and sold into slavery. Bakr was noted for his Arabic penmanship and for the accounting ability that became invaluable to the plantation owner who claimed him as his property. To Madden he was 'as much a nobleman in his own country as any titled chief is in ours' (Madden 1835: 158). Expressing his regard for this extraordinary individual, Madden later wrote, 'I think if I wanted advice in any important matter in which it required extreme prudence and a high sense of moral rectitude to qualify the possessor to give counsel, I would as soon have recourse to the advice of this poor negro as any person I know' (Madden 1835: 158). With some difficulty, he managed to secure Bakr's manumission and passage back to Sierra Leone. [4]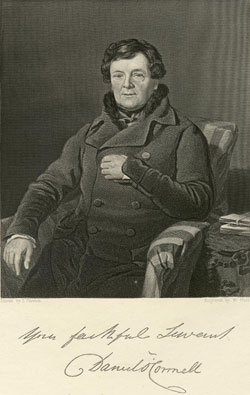 A portrait of 'The Liberator,' Daniel O'Connell. The publication of Madden's A Twelvemonth Residence in the Island of Jamaica (1835) prompted the Jamaican government to establish a committee 'to inquire into the working of the apprenticeship system in the colonies' at which Madden testified that, essentially, the apprenticeship system was slavery in another form. O'Connell was a member of this committee.
Inevitably, Madden's activities led to clashes with employers of apprentices. On one occasion, when a dispute between a planter and his apprentice erupted in his court, the irate employer threatened to have him 'tarred and feathered'. Without the support of local law enforcement, his situation became untenable. Refusing to be intimidated, he was obstructed and assaulted on a Kingston street, until two other Special Magistrates intervened and threatened to call in the troops. Eventually, Madden was forced to resign his position and return to London noting, 'I found the protection of the negro incompatible with my own' (Madden 1891: 72).
Upon returning to London, Madden published the two-volume A Twelvemonth Residence in the Island of Jamaica (1835), using as a device an epistolary format whose addressees included prominent literary figures, such as the poet, Thomas Moore. The book had a considerable effect on public opinion in Britain (Burn 1937: 221). The work prompted the government to establish a select committee whose membership included Daniel O'Connell, 'to inquire into the working of the apprenticeship system in the colonies', at which Madden testified that, essentially, the apprenticeship system was slavery in another form. Along with two other Special Magistrates, he described the difficulties and abuses inherent in the Jamaican system, but went further than the others in condemning it as a failure, offering 'no security for the rights of the negro, no improvement in his intellectual condition'. His efforts, along with those of Joseph Sturge and members of the anti-slavery movement, led to the early abolition of the apprenticeship system in 1838, two years prior to the date fixed by the Emancipation Act.
Apart from documenting the inoperability of apprenticeship, the 1835 work is replete with descriptions of Jamaica's flora and fauna based on the author's observations. [5] The appendix to the London edition also provides an insight into Madden's views of US policy. Written in the form of satirical verse, the following lines reflect Irish opinion as articulated by Daniel O'Connell:
O Hail! Columbia, happy land!
The cradle land of liberty!
Where none but negroes bear the brand,
Or feel the lash of slavery.
Following the signing of the Anglo-Spanish treaty of 1835, Madden prepared to set sail once again, this time for Havana, Cuba, the centre of the slave trade. Even before he set foot on the island in the summer of 1836, the Irishman's appointment by the Colonial Office under Lord Glenelg 'for his merit and character' (Madden 1891: 75) as Judge Arbitrator and first Superintendent of Liberated Africans caused a flurry of diplomatic activity between Cuba and Spain.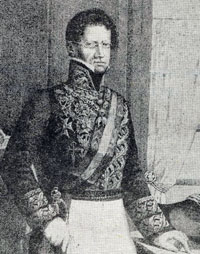 A portrait of Captain General Miguel Tacón y Rosique. Tacón attempted unsuccessfully to block Madden's appointment as Judge Arbitrator, describing Madden as un hombre peligroso ('a dangerous man') based on his abolitionist views and activities in Jamaica.
Describing Madden as un hombre peligroso, ('a dangerous man') based on his abolitionist view and activities in Jamaica, the Captain-General, Miguel Tacón, attempted unsuccessfully to block his appointment. Madden was also appointed Judge Arbitrator on the International Mixed Commission Court for the Suppression of the Slave Trade in Havana under Lord Palmerston at the British Foreign Office. [6]
In accordance with the anti-slave trade treaties, slaves from condemned vessels were to be liberated and employed as either free labourers or servants. Since he was charged with securing the safety of emancipados, or freed slaves, Madden was set on a collision course with the ruling saccharocracy. His plan was to transfer the emancipados from captured vessels to British colonies as free labourers. Tacón, however, refused to allow the emancipados to come ashore while awaiting a vessel to transport them to British colonies, on the pretext that they would transmit cholera or some other contagious disease. As Madden clearly pointed out, Tacón had no difficulty allowing enslaved Africans ashore in chains at out-of-the-way places around the Cuban coastline. From the perspective of the Captain-General, only emancipated Africans posed a threat to inhabitants as 'pestilential persons' with their capacity to spread 'a contagion of liberty' throughout the island. A confidential dispatch from Tacón to the Spanish government confirmed that Madden's views as an abolitionist unnerved the Captain-General more than any other concern at that time.