Irish authors in the twentieth century have had an invaluable, though less recognised, influence on Latin American authors. Their works have helped to change the language used to describe culture, history, politics and writing itself. Jonathan Swift and William Butler Yeats were writers who changed the idioms of prose, poetry, and the essay. There were those who blended the genres, Samuel Beckett, Brian O'Nuallain (Flann O'Brien), and the master James Joyce, have had a profound and a lasting influence on Latin American writers in the twentieth century. Those Latin American authors most affected by reading Irish authors in English, Jorge Luis Borges, Pablo Neruda, and Carlos Fuentes, are the catalysts for what is known as the 'Boom' in Latin American letters this past century. [1]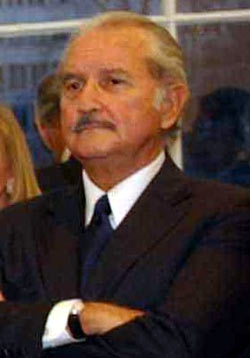 Carlos Fuentes (b. 1928)
(Gustavo Benítez 2002)
Jorge Luis Borges of Argentina, Pablo Neruda of Chile, and Carlos Fuentes of Mexico read Joyce early in their intellectual and authorial development, and it is those two who should be credited with the great explosion of change in the Spanish language in twentieth-century Latin American and Spanish language writing. The influence James Joyce has had on these two authors is far too weakly noted, overshadowed by scholarship on American authors Edgar Allen Poe, Walt Whitman, William Faulkner, and John Dos Passos's influences. This is not to say that the American or the British authors are insignificant; rather, it is remarkable how much the Irish have been neglected, if not completely overlooked. [2]
Latin American novelists and poets who brought to the Spanish language a modernist sensibility, [3] had been reading Irish authors since the turn of the century, and at least one of them was reading Joyce in English before the rest of the English-speaking world could, because of the obscenity charge against his book: Jorge Luis Borges, in cosmopolitan Buenos Aires, received from France the original text of Ulysses, and by 1925 had written his now famous essay 'El Ulises de Joyce'. [4] Borges also translated the last page of Molly Bloom's soliloquy into Spanish. [5]
Neruda's chief debt to Irish author James Joyce lies in the construction of an epic poem that changed both poetry and prose sensibilities in Latin America. All of the 'Boom' authors read Neruda, and one is hard-pressed to think of a 'Boom' author who did not have some significant encounter with him. Neruda's early encounter with Joyce's poetry in Ulysses was while he was in Yangon (Rangoon), Burma. According to Professor Roberto González Echevarría, Neruda 'communicated mostly in English while in the Orient,' and while writing his 'first major book of poems, Residencia en la tierra.' [6] González Echevarría, a poet himself, writes: 'The poems, akin in their torrent of images to the surrealist poetry being written in Europe, show that Neruda had been reading Proust, Joyce, and other European "novelties", including perhaps the surrealists, while in the Orient.' [7]
Mexican writers Octavio Paz and Carlos Fuentes were both heavily influenced by English language poets, [8] most notably Modernists, but it is Joyce's influence that took on a special significance for the novel and for the epic in Mexico and the rest of Latin America in the 1950s. Paz's epic poem Sunstone [9] and Fuentes's Where the Air is Clear [10] derive from what T.S. Eliot called in his essay 'Ulysses, Order and Myth' [11] the 'mythical method'. Much of what they were writing in Spanish at this juncture in Hispanic American belles lettres derives, as Eliot writes in his encomium, from 'a book to which we are all indebted, and from which none of us can escape' (175). The Latin American authors were not so much escaping Ulysses as they were adopting and adapting it to their own epic stories, with the epic poem first (Neruda), then with the novel (Fuentes) as genres through which to tell their stories of nation formation, and of individuality as distinct cultures. That is their gracious and graceful indebtedness to Joyce.
Borges is significant because he wrote no novels. Instead, his influence derives from his tight and terse short stories, essays, and poetry. (He also blended and confused genres delightfully, just as Irish authors have done since they first took up pens. Hugh Kenner puts it best: 'For nearly three centuries Ireland has mocked the book.' [12] Think of the scribes in early Ireland, and of Swift, Sterne, Joyce and Beckett. Even William Butler Yeats elides and fudges genres from the sonnets to plays blazing the trail for Samuel Beckett and Jorge Luis Borges to do this later in prose.) [13]
After Jorge Luis Borges paved the way towards Joyce (and Swift and Sterne), Latin American authors began to write the novel along various models, changing the Spanish language, and developing innovative styles. Reading these protean authors, particularly Joyce, would change the way Spanish would be written and read.
James Joyce, in bringing the novel back to its epic status, in challenging and in changing language, left a permanent mark on modern Latin American writers. There is no doubt that each author of the generation known as 'el Boom,' Peruvian Mario Vargas Llosa, Chilean José Donoso, Argentine Julio Cortázar, Colombian Gabriel García Márquez, and Mexican writer Carlos Fuentes, voraciously read Joyce's works, and those writers still living, continue to draw from James Joyce's novels and short stories as guides to inventing and innovating in their own language, for their own works. [14] The five Latin American authors responsible for over nearly one hundred novels collectively have improved the Spanish language, and, one may soundly argue, the novel itself. These authors have read Joyce in order to see how they can change language and still be faithful to developing the 'uncreated consciences' of their 'races'. [15]
The person who had the greatest influence on the Boom writers in Spanish, Jorge Luis Borges, read Joyce extensively, mimicked him, and would be writing in the wake of his works for the rest of his literary career. Pablo Neruda was not far behind, and Carlos Fuentes followed, reading Borges in Spanish and Joyce in English: Borges and Joyce were models of innovation, of playfulness, and of genius. Neruda's model was one of linguistic elasticity.
Carlos Fuentes's novels of epic lengths and depths Terra Nostra, [16] Where the Air is Clear, Change of Skin and Christopher Unborn [17] bear the indelible imprint of Joyce's larger and longer works of the city, and of stream-of-consciousness technique. Fuentes takes Joyce's methods and model of altering language, his use of the interior monologue, simultaneity, language as the protagonist and stream of consciousness. Fuentes, after Joyce, rewrites history, politics and literature through the medium of the novel - an incredible feat that his fellow Boom writers also took part in.
Ulysses and Finnegan's Wake are works that Fuentes has read over and over, helping to formulate the theory - and to put that theory into practice - that Cervantes's novel (Don Quixote) is the open novel of multivocal reading, and Joyce's novels are the open, multivocal novels of language and of writing. For Fuentes, Cervantes and Joyce wrote the Alpha and Omega of the novel. [18]