Captain Dynamite
John wandered aimlessly around the dock of Iron Babel, looking for some risky adventure that would release him from the routine of his life. This opportunity presented itself in the first days of summer 1888, when an affluent Cuban arrived in the city in need of a brave captain to transport sixty tonnes of dynamite to Panama.
The rumour in the taverns was that the dynamite would be used for a planned insurrection in Cuba. The Cuban already had a schooner, The Rambler, which he had purchased from Commodore Thomas, and which was the largest ship in the New York shipyard. Yet the days passed without him finding the daring captain who would take this dangerous cargo to the port of Colón. As soon as they found out what it was they would be transporting in the hold they refused.
'Don't waste your time, my friend, go see the Irishman O'Brien. He's the man you're looking for', he was told when he was already contemplating returning to the Isthmus empty-handed.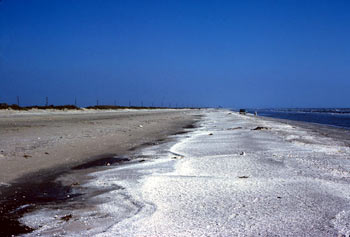 Gulf of Mexico at the border of Texas and Louisiana
(Morton Robert A. Coastal Classification Atlas)
On first impressions, he thought that they had been joking with him. The Irishman did not look like much. He was short and thin. He thought that this man could never be the protagonist of the extraordinary feats he had been told about. Nevertheless, he had no other candidate.
O'Brien accepted immediately, attracted more by the adventure than by the large sum he was offered. The dynamite was packed in cylindrical containers one inch in diameter and a foot long, protected by sawdust and placed in fifty-pound boxes.
While the schooner waited under the watchful eye of the Statue of Liberty, O'Brien lied in order to hire a crew. He told the sailors that they were going to Panama to collect the ship's owner, who owned a coal business. He also told them that from there they would embark on a long voyage and that was why they were carrying plentiful provisions in the hold.
These were the first days of summer. In the Gulf of Mexico the waves gently beat against the schooner. The sky was clear. The evening fell early and the sailors who were not on watch soon gave in to slumber only to be awoken in the midst of thunder, lightning and heavy rain.
The gusts of wind threatened to carry off the sails with them. O'Brien ordered them to be lowered immediately. The Rambler galloped about like a rider on a wild horse. Some sailors prayed, while the captain only thought about the risk of an electrical charge falling on the boxes of dynamite - and boom.
At midnight the storm still had not diminished in intensity. The brusque movements of the boat could have caused an explosion. O'Brien slipped down to the hold to make sure that the boxes were in their places. His fears were not unfounded. Using some pieces of wood and canvas straps he managed to return them to order. The boat continued creaking as if, at a second's notice, it would shatter into pieces. It was a long night.
Finally the sun laid the last traces of the storm to rest. At full speed, the schooner sailed to Jamaica, where they took on ice. Then they continued on to Boca del Toro. There they handed over the vessel and each man went his separate way.
O'Brien waited for the boat that would take him to New York. Every day he walked along the narrow streets of the old port where there was little to admire. To make matters worse, cholera invaded the captain's body. As soon as he could get out of bed he left for the United States. There his colleagues in Hell Gate, in between jokes and deep gulps of whiskey, baptised him John Dynamite. That is how he became known during the war of 1895, during which he served Cuba's cause for independence against the Spanish. In this struggle he left a trail of heroic exploits in his wake, carving legends of bravery.
On his steamship Bermudas and on other vessels he transported valuable war supplies and rebel troops to the island. Among the illustrious passengers he carried was Calixto García, Lieutenant-General of the Liberation Army of Cuba. His adventures at sea, thwarting Spanish cannons, and throwing Spanish and Yankee spies off the scent in the United States, could be the plot of a novel. But that is another story and one that will be told in the next issue of this publication.
José Antonio Quintana García
References
- Castellanos García, Gerardo. Tierras y Glorias de Oriente (Havana: Editorial Hermes, 1927).
- García del Pino, César. Expediciones de la Guerra de Independencia. 1895-1898 (Havana: Editorial de Ciencias Sociales, 1996).
- González Barrios, René. En el mayor silencio (Havana: Editora Política, 1990).
- Pertierra Serra, Enrique. Italianos por la libertad de Cuba (Havana: Editorial José Martí, 2000).
- Portell Vilá, Herminio. Vidas de la unidad americana, 25 biografías de americanos ilustres (Havana: Editorial Minerva, 1944).
- García, Ángel and Piotr Mironchuk. Diario de un mambí ruso (Havana: Editorial de Ciencias Sociales, 1984).
Archival Sources
John O'Brien. Memoirs (manuscript in Sala Cubana, José Martí National Library, Cuba).
Notes
[1] José Antonio Quintana García (Ciego de Ávila, 1970), B.A. Education 1996. A Cuban professor of history, editor and journalist, Quintana García is editor-in-chief at the weekly Invasor. He is the author of Alas de Cóndor (2001), Crónica de una matanza impune (2001), Más allá del soldado, anécdotas del Che (2004) and other books and articles.
[2] A copy of John's memoirs is housed in the Sala Cubana of Cuba's José Martí National Library. The translator's name does not appear.
[3] Herminio Portell Vilá, 'John O'Brien Dinamita, el Capitán Dinamita' in Vidas de la unidad americana, 25 biografías de americanos ilustres, Editorial Minerva, Havana (1944), 358.