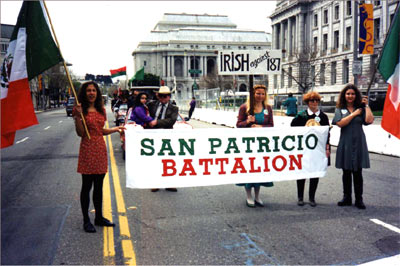 Cinco de Mayo parade
Educational Trips and Celebrations
IMA undertook several educational trips including:
June 1996 - Two-day Immigrant Rights Border Tour, in San Diego and Tijuana, led by Mark Day. IMA received presentations by US Government Border Patrol Officer Scott Marvin on 'Operation Gatekeeper', had meetings with California Assemblywoman, Denise Moreno Ducheny, Committee on Californian/Mexican Affairs and Dr. Jorge Bustamente, El Colegio de la Frontera, had briefings with human rights attorneys Roberto Martínez and Claudia Smith, and attended the annual commemoration festivities at Tijuana Cemetery for 'Juan Soldado, Unofficial Patron Saint of Undocumented Immigrants', with regional 'bandas' from all over Mexico. Some border residents credit 'Johnny the Soldier' with miraculous intervention in their lives.
July 1996 - Visit to original Spanish land grant of IMA member, Plácido Salazar, in Pueblo, New Mexico.
November 1996 - Visit to lecture and exhibit 'Distant Relations: Irish, Mexican and Chicano Art,' organised by Trish Ziff, curator, Santa Monica, California.
September 1997 - 150th anniversary of the end of the Mexican American War and remembrance ceremony at Plaza San Jacinto, San Angel, Mexico City, presided over by Mexican President Ernesto Zedillo, with Irish Ambassador Sean O'Huiginn, honouring the San Patricios who were executed in 1847 by the US military. Sixteen Irish Mexican Association members from California symbolised the sixteen San Patricios hung in Plaza San Jacinto.
30 November to 5 December 1998 - Several IMA members participated in the delegation group of the San Francisco Business Development and Friendship Mission to Mexico City and Acapulco with Mayor Willie Brown.
July 2000 - Visit to Ireland by Irish Mexican Association Co-ordinator Patrick Goggins and his wife, Ute Goggins. Breakfast meeting with Mexican Ambassador to Ireland, Daniel Dultzin, at his residence in Dublin on Mexican Election Day, 4 July 2000, and Fourth of July luncheon party at the residence of the US Ambassador to Ireland, Michael Sullivan, accompanied by Ambassador Dultzin and Irish author Tim Pat Coogan.
May 2005 – Several IMA members participated in the Irish Forum tour of Ireland, north and south, with emphasis on the northern conflict. IMA group visits included a Refugee Centre in Dublin and the San Patricio Monument, Clifden, Connemara, County Galway, home of Captain John Reilly, leader of the San Patricios.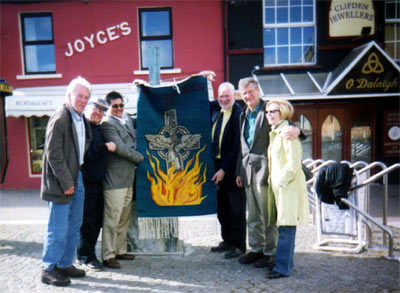 Visit to John Reilly San Patricio monument, Clifden, County Galway (2005)
IMA sponsored altars at the Día de los Muertos annual celebrations in San Rafael. IMA Altar themes, on separate years, have honoured:
- Low riders, with cars and bicycles
- Victims of wars
- Spirits of the animals
- TexMex families
- Immigrants
- San Patricios
- Irish and Latin Writers

2000 – 2006 IMA has co-sponsored the annual Cinco de Mayo Irish Mexican celebration. Proceeds benefit Centro Latino Services for the Elderly, which serves over 30,000 meals a year in the San Francisco Mission District. Latino and Irish members of the San Francisco Fire, Police and Sheriff Departments are honoured. Superb entertainment is provided by Irish and Mexican musical and dancing troupes, including young children. Centro Latino President Chuck Ayala and Executive Director, Gloria Bonilla preside. Many public officials participate, including San Francisco Sheriff Michael Hennessey, San Francisco Treasurer José Cisneros, Irish Consul General Emer Deane, Mexican Consul General Alfonso de María and Mexican Vice Consul, Bernardo Méndez.
IMA members represent the organisation at various community events. For example, David Vela, in his capacity as Irish Mexican Association Secretario and as Vice President of the Irish Literary and Historical Society, made a special Cinco de Mayo presentation at Johnny Foley's Irish House on 5 May 2000, to outgoing Irish Consul General, Kevin Conmy. The occasion was a farewell party, with a reading by his wife, Siobhán Campbell, of her work The Cold That Burns, and Una Celebración con Escritores Irlandeses (A Celebration with Irish Writers), including Thomas Flanagan, author of Year of the French.
Irish Mexican Association participants also undertake outreach activities. David Vela is a fine ideal. As a teacher of literature, he went beyond the classroom, hosted an IMA event, met the Irish Literary and Historical Society in the process, delivered to the Society his signature lecture on the 'Influence of James Joyce on Latin American Writers,' became President of the Society, went to France, taught there, returned to San Francisco and delivered to the Society his lecture on Samuel Beckett and French.
While the Irish Mexican Association of San Francisco has received invitations from across the US and elsewhere to become an umbrella institution for Irish Mexican organisations, IMA remains an informal network of volunteers. IMA activities, frequently spontaneous, in support and promotion of inter-cultural activities, are appreciated by many.
Those who contact the Irish Mexican Association often ask if it is an association of individuals who have both Irish and Mexican blood, or if is it an organisation of Irish people coming together with Mexican people. The answer, of course, is both of the above and something in between. Sussing out the orientation of each questioner is intriguing, because somewhere within the question and the answer is an unknown factor, which the caller cares about beyond articulation. That is what he or she seeks. A feeling more than an idea. It is extraordinary sometimes to see the look in their eyes when they come to IMA and find it.
Patrick Goggins
Co-ordinator, Irish Mexican Association