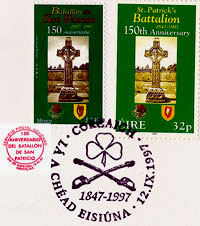 Joint issuance of stamps by
Correos de México and An Post
(12 September 1997)
Another well-known member of the O'Reilly clan in Mexico was the intrepid leader of the San Patricio Companies who fought against the North American invading forces during the so-called Mexican War (1846-1848). He is known to US historians as John Riley, an Irish-born deserter from the US Army; but in Mexico he is remembered as El Capitán Juan O'Reilly of the San Patricios, who distinguished himself for his skill and bravery as an artillerist in many bloody encounters with the US invaders. His military exploits have become well known in recent years due to various books and documentaries, as well as the Hollywood movie One Man's Hero, which provoked much controversy on both sides of the US-Mexican border.
Missionaries, Soldiers and Artists
Eugene MacNamara is referred to by historians as an 'Apostolic Missionary' in Mexico who conceived a grandiose plan to settle ten thousand Irish immigrants in northern California in the early 1840s, when that region was still under Mexican jurisdiction. Apparently, he had travelled extensively throughout northern Mexico and the Mexican government was supportive of his colonisation project in the hope that an Irish Catholic settlement would serve as a defence against the encroaching North Americans who were casting covetous eyes on the rich gold deposits in that area. The project had to be put on hold due to the outbreak of hostilities between the US and Mexico in 1846, and came to an abrupt end when all of Mexico's northern territories were ceded to the United States under the terms of the Treaty of Hidalgo in 1848.
MacNamara was mentioned in US Army records as an Irish Catholic priest who was responsible for the desertion of Irish soldiers who joined the San Patricio Companies to fight against the invading US forces. Some US officers called for his arrest and execution, but he managed to evade his would-be captors and apparently lived to pursue his apostolic activities in a more favourable environment.
The Ancient Order of Hibernians at Jalisco, Mexico
'I believe I occupy a unique position, representing a state where every Irishman in the state is a Hibernian. We have but 18 Irish Catholics in the state of Jalisco. Each one is a member of Division No.1, of which I am president. I have learned through that organization the secret of how to keep members in good standing in the organization. When his dues are due I pay the dues. When he dies I pay his funeral expenses (laughter and applause). Although we have but very few members-but 18 here, they are loyal, genuine Irish boys, every one of them, who are glad to meet their Irish brothers from the States when they visit us, and will be glad to meet them at the next convention, and I hope Mexico will send 10 representatives instead of one.' This was communicated by Edward Blewitt at the 1902 national convention. See John T. Ridge, Erin's Sons in America - The Ancient Order of Hibernians (Brooklyn, NY: AOH Publications, 1986), p. 137.
Another controversial cleric of that same period was Miguel Muldoon, who came to Mexico from Spain in the company of the Spanish Viceroy General Juan O'Donojú in 1821, and volunteered to work as a missionary in the region that was soon destined to become the US state of Texas. He earned a reputation as a friend and collaborator of the Anglo-Protestant immigrants to Texas, who were not eligible for land grants under Mexican law. Muldoon, it seems, supplied them with Catholic baptismal and marriage certificates, and apparently his 'converts' made some kind of profession of faith in the Catholic church and thereby became eligible to receive Mexican land grants. This unusual ecclesiastical procedure gave rise to the cynical expression 'Muldoon Catholics' in the Lone Star state. Apparently, Muldoon was born in Ireland and emigrated to Spain where he was ordained a priest at the Irish Seminary in Seville. He received a land grant from the Mexican government near Saltillo in 1831, which he later disposed of, but his name survives in the small rural district of Muldoon, Texas to the present day. Some historians claim that he was expelled from Mexico as a persona non grata due to his collaboration with the leaders of the Texan rebellion against the Mexican government in 1836. An historical monument in Texas hails him as 'the Forgotten Man of Texas Independence'.
General Juan O'Donojú (O'Donohue) was one of the most outstanding soldiers in the Spanish Army, and had served as aide-de-camp to the Spanish king. He was appointed Viceroy to New Spain (Mexico) in 1821, and was given the task of putting an end to the War of Independence which had commenced in 1810. However, when O'Donojú arrived in Mexico he realised that he had been given an impossible task, and decided that Spain should reach a negotiated settlement with the Mexican rebels and allow New Spain to become the independent United States of Mexico. He signed the Córdoba Treaty with the Mexican General Agustín Iturbide in 1821, and thereby brought to an end Mexico's eleven-year struggle for national independence.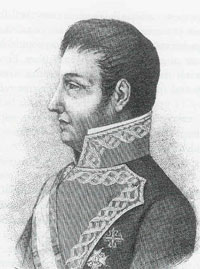 Juan O'Donojú (1762-1821)
(J.V. Thomas)
O'Donojú died in Mexico that same year and was buried with great pomp and ceremony in the Metropolitan Cathedral in Mexico City. Juan O'Donojú Street in Mexico City perpetuates his memory as a friend and collaborator of Mexican independence. At the entrance to the Independence Monument in Mexico City is the statue of another Irishman who is regarded as the precursor of Mexican independence and known to history as Guillén Lombardo (William Lamport) from County Wexford. He was condemned by the Holy Inquisition to be burned at the stake for his heretical ideologies in 1659 (Irish Roots 54: 'Zorro').
The Irish have also left their mark on the visual arts in modern Mexico, where Juan O'Gorman (1905-1982) and Pablo O'Higgins (1904-1983) have earned reputations as renaissance muralists in the distinguished company of Diego Rivera and Clemente Orozco. Edmundo O'Gorman (1906-1995) was one of Mexico's most outstanding historians and literary personalities of the last century.
Don Rómulo O'Farrill, Jr. is one of Mexico's prominent entrepreneurs and diplomats, and served as Ireland's Honorary Consul in Mexico for over three decades, until the appointment of a resident Irish Ambassador in 1999. The O'Farrills trace their Irish roots back to County Longford by way of Spain, and the surname is associated with publishing and other commercial enterprises throughout Mexico.
The Irish Society of Mexico was organised in 1978, and has served as a link between Mexicans of Irish lineage and their ancestral homeland. This humble scribe was elected its first president, and the organising committee included Irish expatriates Terry Burgess, Liam McAlister, Stephanie Counihan, Deirdre O'Neill, Catherine Corry, Matt McMahon, Allison O'Doherty and Séamus Ó Fógartaigh.
The special affinity between the Irish and Mexican cultures may be traceable to St. Brendan and his disciples who may have left an indelible Celtic imprint on Mexican culture and spirituality some 1500 years ago.
Séamus
Ó
Fógartaigh
This article is a revised version of 'Hiberno-Mexican Historical Links' in Irish Roots Magazine, N° 58 (2006 Second Quarter).
References
- Hogan, Michael, The Irish Soldiers of Mexico (Mexico: Fondo Editorial Universitario, 1997).
- Ó Fógartaigh, Séamus. 'The Man Behind the Mask of Zorro' in Irish Roots N° 54 (Second Quarter 2005).