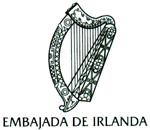 Embassy of Ireland to Mexico
The Irish Embassy represents the Government of Ireland in Mexico. The objectives of the Embassy are to deepen further the political, commercial and cultural links between Ireland and Mexico. It also provides a range of services to Irish citizens and businesses operating or resident in Mexico and the region. The Irish Embassy in Mexico also represents Ireland in Cuba, El Salvador, Panama, Venezuela, Colombia and Peru and works to promote cordial relations and foster mutual understanding between the Government and people of Ireland and each of these countries.
http://ww.irishembassy.com.mx
http://ww.dfa.ie

The Smurfit Kappa Group
Smurfit Kappa Group (SKG) is a world player in paper based packaging with leading market positions in Europe and in Latin America.
With sales in 2008 in excess of € 7 billion and around 40,000 employees, the Smurfit Kappa Group is a focused player in paper based packaging. Operating in 31 countries (22 in Europe and 9 in Latin America), it is the European leader in containerboard, solid board, corrugated and solid board packaging and has a key position in several other packaging and paper market segments including graphic board, sack paper and paper sacks. It is a market leader in corrugated in Latin America and occupies the number two position in containerboard there.
Its Group headquarters are in Dublin with regional headquarters in Paris (Europe) and Miami (Latin America).
St. James Gate Development
and Consulting in Mexico
St. James Gate, a Development and Market Services company, was founded with the intent of providing premier sophisticated real estate development and market services.
The development services can take an investor from the initial project idea, land selection through to delivering of the titles to unit owners and the delivery of Home Owner's Operations to its Associations (HOA). The development services can of course also be provided in smaller service packages, or just a specific service to fill in any requirements a developer needs in this market like project set up, project management, construction, licensing, or legal structures.
The market services includes; providing market analysis helping the investors make better decisions, investment services; financial services; real estate and corporate legal services. It takes an investor / buyer from the initial interest in a property through to title of their property; it provides business consulting to make the best return for their investment.