This event marked a turning point in the history of Spanish colonial Puerto Rico. In its aftermath the lettered elite seized the opportunity to leverage a series of concessions, including tax relief, privileges and honorific titles for various government functionaries, and special recognition of the capital as 'most noble and loyal' (Tapia y Rivera 1970: 715-18). Poor residents of the adjacent Loíza and Cangrejos settlements, most of them black and/or former maroons, boasted of their own active role in thwarting the British invasion, a feat commemorated by their descendants to this day (Guisti 2000: 33-41). Local lore immortalised the heroism displayed by the likes of José 'Pepe' Díaz, an officer from the peripheral town of Toa Alta killed while charging a British battery in the Martín Peña bridge (Morales Carrión 1974: 117).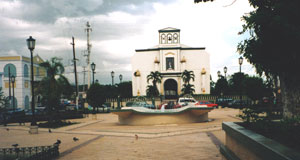 Toa Alta
Fascinatingly, the traditionally despised 'barbaric' countryside (symbolically represented by the rural folk from throughout the island who answered Castro's call to arms) had saved the ostentatious, 'civilised' walled city of San Juan (Giusti 1993: 20). According to historian Fernando Picó, the triumph over the numerically superior English expedition may have even led to 'the crystallisation of a national sentiment' (Picó 1986: 123).
Having invested considerable funds and manpower in upgrading defences in Puerto Rico in the last third of the eighteenth century, the Spanish Crown could not have been more pleased with the defeat of its British opponent. Seen from an imperial perspective, however, the show of force displayed by the Puerto Ricans was as impressive as it was alarming. They had demonstrated their loyalty, but also their ability to come together and fight for their homeland. In an age when slave revolts and pro-independence agitation were on the increase, Spain viewed this development with trepidation.
Several important economic reforms sought to blunt this budding movement of self-affirmation. The opening of five additional island ports in 1805 was expected to increase the exportation of tropical staples by eliminating the need to ship them out only through the 'official' port of San Juan. A decade later, Spain granted Puerto Rico a 'Cédula de Gracias' to attract capital and skilled workers, and to otherwise further the island's agricultural growth. The Crown expected these types of concessions to keep the islanders from severing the colonial bond (Scarano 1984: 18).
There was one unanticipated consequence of the British attack that has received only scant attention in the historical literature: the expulsion of English-speaking European foreigners alleged to have supported the anti-Spanish military campaign. Three days into the battle, Governor Castro reported that a party of Loíza blacks had captured two German soldiers. They were escorted to the capital, where a routine check of their backpacks uncovered a piece of paper with the name of a San Juan resident. To guard against the possibility that the enemy might gain intelligence from anyone in the city or the island, Castro ordered some of the local residents and foreigners, especially those of English and Irish descent, to be placed under surveillance. The directive coincided with a report that British soldiers had looted the sugar plantations owned by José Giralt and Jaime O'Daly. Eventually, he had them arrested and imprisoned (Tapia y Rivera 1970: 680).
Castro extended his expulsion order to all foreigners, yet apparently those affected by it were overwhelmingly Irish. Jaime Quinlan, Jaime O'Daly, Miguel Conway, Juan Nagle, Miguel and Patricio Kirwan, Tomás Armstrong, Jaime Kiernan, Felipe Doran, Patricio Fitzpatrick and Antonio Skerret were given eight days to leave the island (AGS-Guerra, leg. 7146, exp. 2, 14 March 1797; AGI-Ultramar, leg. 451, 3 July 1797). Miguel Kirwan ended up in Saint Thomas, where he passed away alone in September 1798. His wife Juana Rita Salgado and daughter Isabel, fourteen years old at the time, stayed behind in Puerto Rico. His worldly possessions in Loíza included nine slaves, countless heads of cattle, pastures and four houses. The land itself was appraised at 28,617 pesos (AGPR, Loíza, carpeta 1, 1791-1803). His brother Patricio, Miguel Conway and some four or five unidentified Irish colonists were taken out of jail and cast off the island. Fifty-year-old Juan Nagle, who had successfully made the transition from overseer to planter, died soon after being released (AGS-Guerra, leg. 7146, exp. 2, 14 March 1797). O'Daly was incarcerated for forty-six days (AGI-SD, leg. 2393, 15 September 1797). The fate of the others could not be ascertained.
Even though the situation looked grim for the Irish, their defenders in Puerto Rico lost little time in making their views known to the Spanish Crown. At least two prominent local figures spoke out for them in vigorous terms. Treasury official Felipe Antonio Mejía condemned Castro's pronouncement as legally unjustified and economically counter-productive. He pointed out that there was no credible evidence to support the claim that the Irish had aided the enemy, nor any real effort to get at the truth. All were arbitrarily rounded up, locked up, and told to leave the island without ever facing a court of law.
O'Daly, a royal appointee, was put behind bars and denied an opportunity to secure the accounts of the Royal Tobacco Factory as mandated by the Laws of the Indies. Moreover, Mejía wrote to the King, their unwarranted removal went against everything the Crown had done to jump-start the economies of the Spanish Antilles, such as reapportioning state-owned land among farmers, waiving certain import and export duties, and granting special dispensations to foreigners knowledgeable in commercial agriculture. After all, he added, the Irish hacendados (landowners) whom Castro had expelled without just cause were spearheading the conversion of swampy, uncultivated lands into flourishing plantations (AGI-Ultramar, leg. 451, 3 July 1797).
The Spanish Secretary of State Juan Manuel Alvarez forwarded a confidential letter to Bishop Juan Bautista to try to learn what really happened. According to the informant, an anonymous flyer circulating after the British invaded contended that the enemy planned to capture Governor Castro's wife who had taken refuge in the town of Bayamón. It also claimed that Nagle, Conway, O'Daly, the Kirwans and others were keeping contact with the British. The governor hastily charged them with aiding the enemy and placed them under guard in solitary confinement. In the end, however, none of the allegations were proven.
To cover up the wrong, the bishop continued, Governor Castro cloaked his actions by recourse to the laws that forbade aliens from settling in Spanish America. Still, his order of expulsion against the Irish excluded all other foreigners, 'of which there are plenty' (AGS-Guerra, leg. 7146, exp. 2, 14 March 1797). The bishop described Conway as 'one of the most proper and honorable men' he had known. His only fault, Batista went on, was to have an Irish nephew in the ranks of the British forces that assaulted the island although no communication between the two was ever established. The ecclesiastical official added that Nagle had done nothing to merit his ill-treatment. He merely went to the British general leading the attack with a signed passport from a local Spanish commander to retrieve several slaves stolen by his soldiers, all of which Nagle had dutifully informed Governor Castro. Echoing Mejía's comments, he added:
In effect, Your Excellency, these honorable Irishmen, most of them married, all landowners, dwelling and grounded in this island for so many years, are the ones who have opened the eyes of these our islanders; they have taught [them] to make and refine our rums; to plant sugar cane, manufacturing it and whitening it with the perfection that it is done today; they are the ones who have taught [them] all of the labors and operations of coffee [production], introducing all the useful machinery to save on labor and to make [our coffee] among the most preferred, save those of Asia and Mocha; they are the only ones who have imported into this island many lines or articles of commerce, utility, and industry; finally, before their arrival and settlement, a sad and worthless cane syrup was produced here which foreigners purchased, converted to rum, and sold back to us for a sweet profit (AGS-Guerra, leg. 7146, exp. 2, 14 March 1797).
Just what transpired as a result of Alvarez's inquest is not clear from the sources consulted for this article. Yet in 1798, the expulsion order against O'Daly was suspended. Governor Castro was directed to forward all documents regarding his case to the Council of the Indies for review. O'Daly remained in Puerto Rico, where he died of natural causes in 1806 and was buried in the San Juan Cathedral (AHC, Fondo N.S. de los Remedios, Sección Sacramental, caja 84, Libro 17 de Defunciones, fols. 295-295v.). Doran, Kiernan, Quinlan and Skerret also survived the witch hunt. The first received a residence permit in 1804; the other three obtained naturalisation in 1816. Kiernan even managed to acquire another four hundred acres of land in Hato Rey (AGI-Ultramar, leg. 405, 16 January, 1804; Cifre de Loubriel 1962: 93; AGI-SD, leg. 432, 30 October 1816).