Notes
[1] This is a summary of my doctoral thesis: Diego Téllez Alarcia, Mr. Richard Wall, the forgotten minister, defended on 20.06.2006. University of La Rioja (Spain). The thesis was awarded with the Pablo de Olavide's Research Essay Prize. See the website: http://www.tiemposmodernos.org/ricardowall.
[2] J. D'Alton, Illustrations, historical and genealogical, of King James's Irish army list, 1689, (London, 1861), Vol. II, p. 82.
[3] Hubert Gallwey, The Wall family in Ireland (Naas, H. Gallwey, 1970).
[4] Archives Départementales de la Loire-Atlantique, Registres paroissiaux, Nantes, Église de Saint Nicolas, BMS, 1691-1697, 7 November 1694: 'Le 7ème jour de novembre 1694 a été baptisé dans l'Eglise de St. Nicolas de Nantes par moi père soussigné, Richard, né le 5ème du courant, fils de Matthieu Duval, gentilhomme absent, et de Catherine Devreux, sa femme habitants a la foie, rue du puits d'argent.' A Spanish translation can be found in the Archivo Histórico Nacional, Órdenes, Santiago, 9.020.
[5] Military services records in Archivo General de Simancas (Valladolid), Secretaría de Guerra, 2.465, book II, p. 12, book III, p. 10 and book IV, p. 10
[6] Gaceta de Madrid, 13 de enero de 1778.
[7] Duque de Liria, 'Diario del viaje del duque de Liria y Xérica', Colección de Documentos Inéditos para la Historia de España, por el marqués de la Fuensanta, D. José Sancho Rayón y D. Francisco Zabálburu, (Madrid, 1889). vol. xciii, pp. 200-201.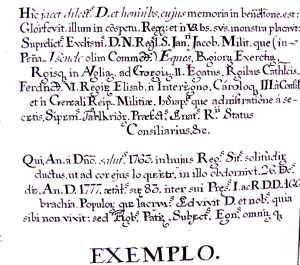 Wall's Epitaph
(Parish records, Fuentevaqueros, Granada)
[8] Archivo Histórico Nacional (Madrid), Órdenes, Santiago, 9.020.
[9] Diego Téllez Alarcia, 'Guerra y regalismo a comienzos del reinado de Carlos III. El final del ministerio Wall', Hispania, 209, 2001, pp. 1051-1090.
[10] Diego Téllez Alarcia, 'Documentation concerning the role of Ricardo Wall (1694-1777) in the restoration of the Arab Palace of La Alhambra', Archivium Hibernicum, LIX, 2005, pp. 90-105.
[11] More information on Wall's career in: Diego Téllez Alarcia, 'El caballero D. Ricardo Wall y la conspiración antiensenadista', José Miguel Delgado Barrado and José Luis Gómez Urdáñez, Ministros de Fernando VI, (Córdoba, Universidad de Córdoba, 2002), pp. 93-138. In English: Diego Téllez Alarcia, 'Richard Wall: light and shade of an Irish minister in Spain (1694-1777)', Irish Studies Review, 11.2, August 2003, pp. 123-136.
[12] Diego Téllez Alarcia, 'La supuesta anglofilia de D. Ricardo Wall. Filias y fobias políticas durante el reinado de Fernando VI', Revista de Historia Moderna. Anales de la Universidad de Alicante, 21, 2003, pp. 501-536.
[13] Diego Téllez Alarcia, 'La neutralidad española durante el reinado de Fernando VI. ¿'Vigilante y armada' o 'inexplicable y suicida'?', Agustín Guimerá and Víctor Peralta (eds.), El Equilibrio de los Imperios: de Utrecht a Trafalgar. Actas de la VIII Reunión Científica de la Fundación Española de Historia Moderna (Madrid, 2-4 de junio de 2004), (Madrid, C.S.I.C., 2005), pp. 191-206.
[14] José Luis Gómez Urdáñez, El proyecto reformista del marqués de la Ensenada (Lérida: Milenio, 1996).
[15] Diego Téllez Alarcia, 'El joven Campomanes y el ministro Wall (1754-63)', Dolores Mateos Dorado (ed.), Campomanes doscientos años después (Oviedo: Universidad de Oviedo, 2003), pp. 417-431.
[16] Didier Ozanam, Les diplomates espagnols du XVIIIe siècle, Introduction et rèpertoire biographique (1700-1808), (Madrid: Casa de Velásquez-Burdeos-Maison des Pays Ibériques, 1998).
[17] Diego Téllez Alarcia, 'El grupo irlandés bajo el ministerio Wall (1754-63)', María Begoña Villar García y P. Pezzi Cristóbal (eds.), Los Extranjeros en la España Moderna Actas del I Coloquio Internacional. Málaga 28-30 de noviembre de 2002 (Málaga: Universidad de Málaga, 2003), Vol. II, pp. 737-750.