Cobh today with its many different coloured houses and elegant buildings is a delightful place to live. But it was not always so. At one time it was a great British naval base and local people were well accustomed to the constant comings and goings of warships and sailors. This was the ill fated Titanic's last port of call on its maiden and last journey to New York and it was here that the many bodies of victims from the sinking of the Lusitania by a German submarine off the Old Head of Kinsale were brought for burial in a mass grave. As an emigration port it witnessed many scenes of great sadness and distress as thousands departed for a new life in some other distant part of the world.

Back: Eddie McCarthy, John Blanchard, Jim Ellis, Chris Ahern, Joe Stack and Sean Gearey.
Seated: Denis Ellis, Tom Kiely, Capt. Good, (Deputy Harbour Master), Bill Higgins and Mike O'Donovan.
This attractive port town, nestling on the side of the hill dominated by the Pugin designed St Colman's Cathedral, is situated on the estuary of one of the world's great natural harbours. In some ways the vista from high up above the town resembles Sydney Harbour; a military fort sitting atop Spike Island, the naval installations on Haulbowline, the twin forts (Carlisle and Templebreedy) and on either side of the narrow harbour entrance and the Atlantic glistening in the distance.
Many emigrants departed Ireland from here for the new world – never to return - during the sombre years of the famine and on to the halcyon days of the great passenger liners. Ships like the Lusitania, Mauritania, Bremen, Isle de France were regular callers in those heady days before the age of the jet decimated transatlantic passenger liner trade.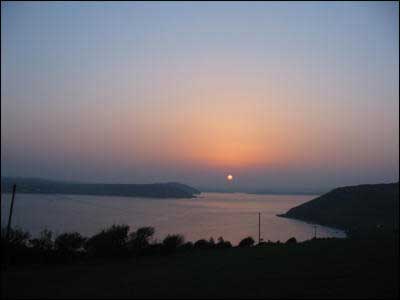 Cork harbour sunset (www.cork-guide.ie)
There was a buzz in Cobh in those days when liners dropped anchor at Whitegate or stayed outside off Roche's Point. Cork harbour pilots were renowned for their navigational skills and some achieved unintentional fame, as unable to return to the pilot cutter due to stormy weather at sea, they sailed perforce west to New York or up the Channel to either Cherbourg of Southampton.
William P. Higgins (1893-1972), Bill to his friends, was a native of Cobh, County Cork, who went to sea in 1910 as a teenager and spent the following decade at sea, mostly in sailing ships.
About 1922-23 he became a pilot in Cork harbour and retired from service in 1963 on reaching the then retirement age of 70! Bill was no mere mariner, for he left a 'diary' or more correctly, a handwritten copybook of reminiscences of his career. A perceptive eye dipped the pen of mirth in ink of seasoned maritime experience to write a racy dialogue of one sailor's tale of adventure, a tale salvaged from the depths of cobwebbed memory.
I think it was in the year 1915 I joined a Belgian steamer in Newport Mon. (Monmouthshire, Gwent, South Wales) going out to the River Plate with a cargo of coal. We took about thirty days on passage. Having arrived at Insinada (sic 'Ensenada') it took about ten days to discharge, we received orders to proceed to Bahía Blanca to load grain for London.
While we were loading I went ashore one afternoon to have a look around. The port's name is Engineer White, because Bahía Blanca was named after the engineer who built it. Things were quiet ashore, and warm. I went into a saloon to have a drink, it was a lovely evening just to laze around with nothing to do.
I was on my second beer when suddenly the door opened to admit two vigilantes. Coming up to the barman they held a conversation in Spanish. I had a good chance to study them both.
One was dressed a little better than the other, he wore silver spurs with sharp rowels, riding boots and tight riding pants. The other was a foot vigilante, he went into the back of the saloon and closed the door and called the barman in with him leaving the one with the spurs standing in the bar.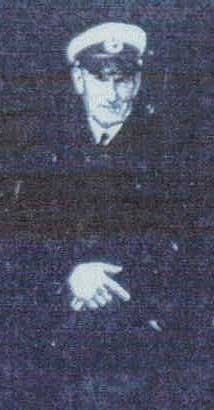 Bill Higgins
I was able to spatter a little Spanish, so I thought I would ask him to have a drink. 'Usta cara una botoll selvesa' (sic 'Usted quiere una botella de cerveza') I said, 'will you have a bottle of beer.' He replied in English 'I don't mind if I do', turning round to look at me. It shook me a bit to hear him speak English so good. Then he spoke again, 'by your speech you are a Southerner', and the thought flashed through my mind he was taking me for a Yank. I must be coming on. 'A Southerner from where?' I said, 'south of Ireland', he replied. That was sharp shooting I thought.
All I could do was nod my head in reply. Then he was speaking to me in Irish and all I could understand was 'agus' (Irish language word for 'and') and in fact that is how I knew he was talking Irish. I was ashamed not to be able to answer him. He knew alright. 'You are a hard Irishman' he said 'can't speak your own language'. I tried to explain that seafaring people on the Irish coast got little chance to learn it. He seemed to accept that explanation rather reluctantly shaking his head.
How come I said you are able to speak Irish, English and Spanish, it's rather strange. 'Well' he said, 'did you ever hear of Portainens' (sic 'Porteños'). No I said. So he told me how it happened. 'It was about sixty years previously there was free emigration from Ireland to Argentina, so a lot of Irish families availed of the chance to go there.'
'That is how I come to speak three languages. The old people never forgot their Celtic-origins'. We shook hands and parted, hoping we would meet again some day.
I am indebted to Tim Cadogan, Executive Librarian, Cork County Library, Model Business Park, Model Farm Road, Cork, for giving me access to this manuscript. There is a typed version which was used in a radio broadcast on the RTÉ network, but I have used the original hand written document which internal evidence suggests was written in 1963. I am also indebted to Philip Thomas, Assistant Curator at the Cobh Museum, Old Scots Church, High Road, Cobh, County Cork for providing me with a copy of a Cork Harbour pilots group photograph of taken circa 1950. Bill Higgins is seated in the front row second from right.