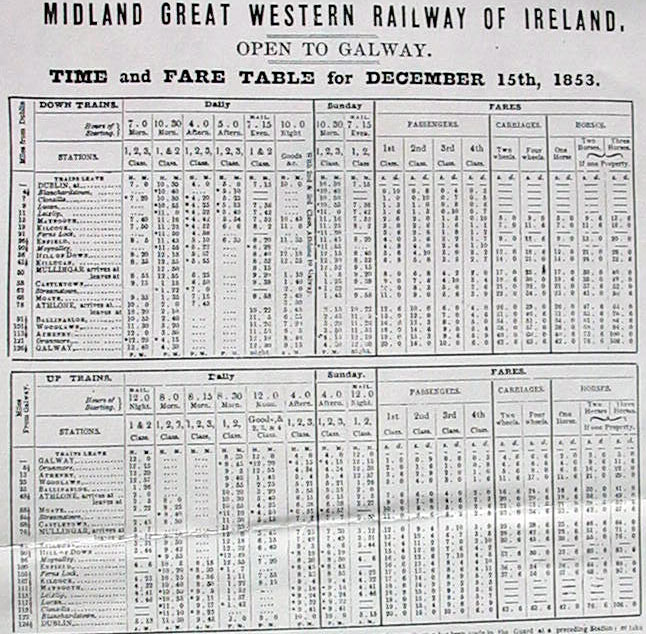 MGWR timetable sheet for the Galway line, December 1853
(Mulligan 1983)
Once in Dublin, emigrants would stay a night at a local hotel. The Broad Stone Hotel was the establishment of the Royal Canal Company in Dublin. In October 1807, under the management of John Rooney, the fare for one bed for one person in a room containing two or more beds was 2s-2d.
In order to cross the Irish Sea from Dublin to Liverpool, there were at least three boats daily and the journey took twelve to fourteen hours. There was a fully developed shipping trade between Ireland and Liverpool. The first quarter of the nineteenth century witnessed technological developments in the application of steam power to shipping which led to the strengthening of the connection between Ireland and England. From the 1820s onward, 'Liverpool was connected with all the main Irish ports by a fleet of relatively fast, cheap steam vessels, mainly paddle-driven but some screw-driven […]. The leading company of the Dublin-Liverpool trade was the Dublin and Liverpool Steam Packet Co. According to the company's estimate, 'they carried more than 100,000 passengers from June 1853 to June 1854' [Préteseille 1999]. The crossing was a traumatic experience for passengers. There was little cabin accommodation. Moreover, 'most ships were carrying animals below deck and they were usually taken better care of.' William Watson, managing director of the Dublin and Liverpool Steam Packet Company gave evidence when he was questioned by a Parliamentary Committee:
– If you have both cattle and passengers you give the cattle preference?
– We cannot have them both in the same places.
– But the cattle would be sheltered, and deck passengers would not be sheltered?
– Yes [Préteseille 1999]
Few ships had steerage accommodations so most passengers had no shelter. They were therefore exposed to the weather and often arrived exhausted, scarcely able to walk. Most of the time, steamers – whose average tonnage was 500 to 700 – were overcrowded. Other emigrants bound to Liverpool sailed in boats headed to Holyhead, and then travelled by stagecoach to Liverpool (about 145 km).
Emigrating from Co. Wexford
Already in the late seventeenth century, Wexford was an international port with heavy trade to Liverpool, Dublin, Bristol, and other ports of the British isles and the continent. The modern quay front 'began to take shape in the early part of the [19th] century' [Rossiter 1989: 13]. The Quay Corporation was responsible for the maintenance of the many wharfs and quays, as well as the pilotage control, piped water supply, and cleansing of the streets. The Quay Corporation 'had the power to levy rates on vessels using the port' [13]. Later in the 1830s, 'the Redmond family opened a dockyard in Wexford causing Lewis, in his Topography of Ireland to remark: "Shipping interests have been materially promoted by the construction of a patent slip and shipbuilding yard at the southern end of his embankment"' [14]. Wexford town was well connected to the county villages and townlands through Bianconi and carts.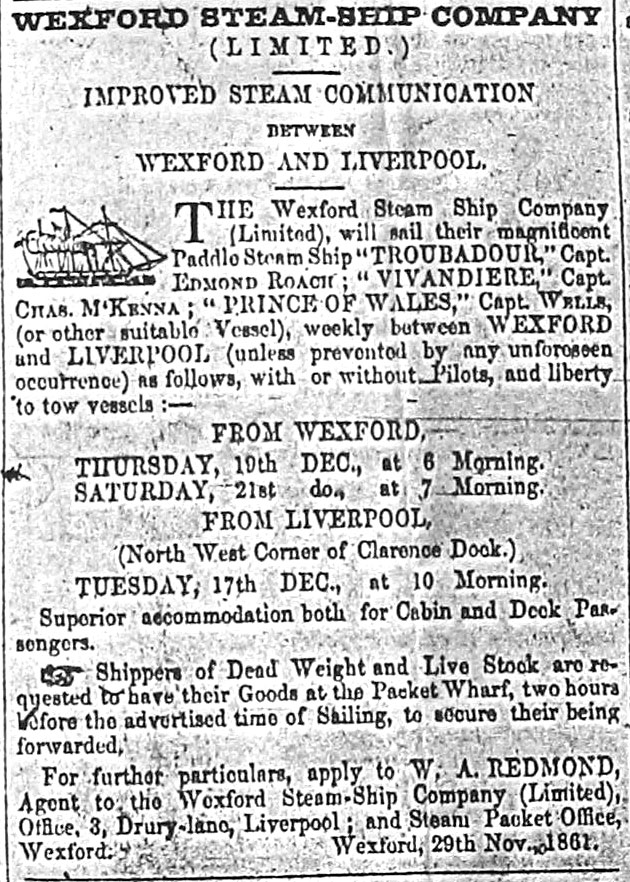 Wexford Town Library
From Wexford Quay there were steamer-boats sailing directly to Liverpool. In 1861, the Wexford Steam-Ship Co. sailed 'their magnificent paddle steam ships Troubador (Capt. Edmond Roach); Vivandiere (Capt. Chas. McKenna); Prince of Wales (Capt. Wells); or other suitable vessel, weekly between Wexford and Liverpool' [The People 28 December 1861]. Departures from Wexford were every Thursday at 6.00 A.M. and Saturday at 7.00 A.M., with an estimated sail time of twelve hours. There were accommodations for cabin and deck passengers. Other choice was to sail to Dublin and from there to Liverpool (British & Irish Steam-Packet Co.).
In the 1880s, Lamport & Holt's agent in Wexford was William Timpson, who would sell tickets to Liverpool with connections to the River Plate sailing every fourteen days [Bassett 1885, 104].
The Liverpool Experience
A dreadful experience awaited those disoriented Irish arriving in Liverpool in order to get a passage to South America. Indeed the arrival in Liverpool did not guarantee the next leg of the journey. Some of Liverpool residents were notorious for tricking the inexperienced travellers out of their passage money or even seducing women emigrants into employment in the city's brothels. During the Famine period, 'ma notorious for tricking the inexperienced travellers out of their passage money or even seducing women emigrants into employment in the city's brothels. During the Famine period, 'many rural emigrants never escaped the slums of Liverpool. The Irish now had to survive the streetwise con-men and racketeers' [Préteseille 1999]. Before getting on board, emigrants had to deal with ship-brokers, runners, boarding-house keepers who overcharged them, keepers of spirit vaults and provision stores who sold them bad food and drink at high prices. They also had to pass a medical inspection.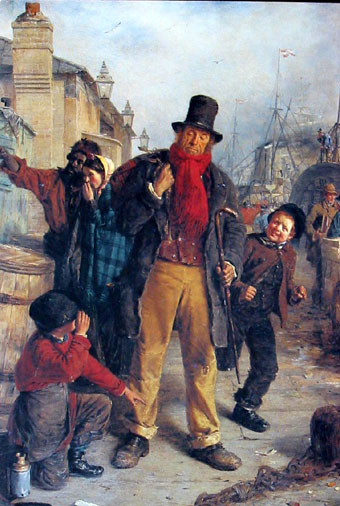 Erskine Nicol (1825-1904), Scottish, An Irish Emmigrant Landing at Liverpool, 1871 (National Gallery of Scotland, Edinburgh)
When arriving at Liverpool, emigrants from Dublin and Wexford landed in Clarence Dock. Since most of the emigrants bound to Argentina would have already purchased their tickets in Ballymahon, Mullingar or Wexford town, their money was secured and just had to take care of their lodging until the boarding time. During the days of sailing ships, vessels were 'expected any day now' and, if the wind was against them, they could be up to three weeks late. From the many boarding-houses in Liverpool, those for poor emigrants were to be found in the neighbourhood of Waterloo Dock and northwards of the Clarence Dock, 'more especially about Denison Street, Regent Street, Carlton Street, Porter Street, Stewart Street, and Great Howard Street' [Préteseille 1999].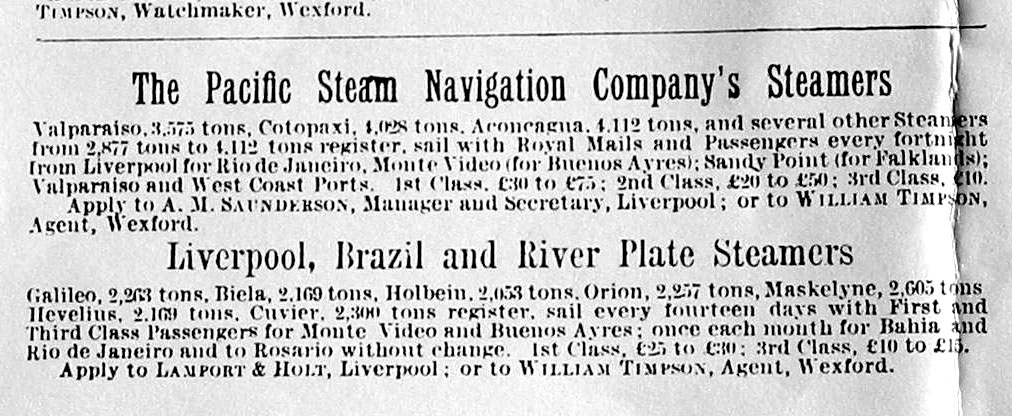 Bassett's Wexford County Guide and Directory (1885)
Wexford Town Library