Introduction
Since the late 1990s and early 2000s, when Ireland was in the midst of an economic boom, there was a need for migrant labour to work in a number of industries in which Irish people no longer wished to work. These industries included meat processing (abattoirs), hospitality, outdoor labour (agriculture and construction), and were the main types of employment for many Brazilian migrants. It was at this time that a number of Brazilians were first recruited to work in meat processing plants throughout Ireland including in Gort, County Galway and Roscommon Town. They were recruited through an Irish man who worked in the meat industry in Brazil (see Maher, 2010). Via these initial recruits, word soon spread, through social networks, back to Brazil that there was a lot of work available in Ireland, and the numbers arriving quickly increased in the years that followed. In 2002 there were just over 1,000 Brazilians in Ireland; by 2006 this number had increased to more than 4,300 according to census data, yet other estimates suggest that the figure was closer to 8,000 at that time (CSO, 2003 and 2007; O'Neill, 2007).
Once in Ireland, many Brazilian migrants sought to become culturally established, and one aspect of this involved religious participation and practices. Research suggests that religious participation is a way in which migrants remain connected to their communities of origin, and religious communities have become vital agents in the creation of transnational civil society (Menjivar, 1999). Religious practices in the broad sense refer to both institutional and personal religious expressions (Pargament, 2001). While cultural practices refer to the means by which migrants create meaning, and with which they make the world meaningful to themselves and themselves meaningful to the world (Cohen, 1993), Levitt (2003: 851) believes that 'one way that migrants stay connected to their sending communities is through transnational religious practices'. This paper explores aspects of religious participation and practices among Brazilian migrants in Gort and Roscommon using data from a combination of over 100 interviews, questionnaires and a focus group, undertaken in both Ireland and Brazil. It also examines how involvement in religious activities contributed to the integration, or not, of the Brazilians and Irish.
Much of the recent research on migrant religious practices suggests that both cultural and religious practices are intertwined and the evidence from this research suggests that migrants do not just attend religious services for spiritual reasons but also for a variety of other motives. For example, a study of Mexican and Guatemalan labour migrants working in the agricultural sector in the town of Immokalee, Florida, USA, revealed that practically all migrants took part in the main sacraments at the local Catholic Church (Mass, Baptism, Communion and other rites) (Williams and Fortuny-Loret de Mola, 2005). Attendance at Sunday mass also gives the migrants an opportunity to speak with one another afterwards. The Catholic Church also runs the Guadalupe centre which provides legal services and advice for immigrants and the Church is also embedded in a broad network of community groups that provides significant resources for its social service delivery to the migrant population in Immokalee (ibid.). Several other religious organisations also provide practical material support and the Catholic Church provides assistance to those in need, via the Society of St Vincent de Paul. The religious community thus acts as 'the main integrating force encompassing members on both sides of the border' (Fortuny-Loret De Mola, 2002: 18). For Senegalese migrants in Italy, for example, religion is essential in creating a sense of identity and 'thus, the religious organisation is very important in maintaining transnational identity, in providing transmigrants with spiritual and ideological points of reference and, mainly indirectly, in aiding the development of networks which are combined with other networks' (Riccio, 2001: 595).
As previously mentioned, research suggests that religious participation is a way in which migrants remain connected to their communities of origin, and religious communities have become vital agents in the creation of transnational civil society (Menjivar, 1999). Religion and Churches played a very important role for many Brazilians in Ireland. The community in Gort, although only officially numbering approximately 500 Brazilians in 2010, had five separate Evangelical Churches (Pictures 1 and 2) to cater to their needs, while the Roman Catholic Church of St. Colman's catered to the Brazilian Catholic community in Gort. In Roscommon, the remaining 300 Brazilians also had three separate Evangelical Churches as well as the Catholic Sacred Heart Church in Roscommon Town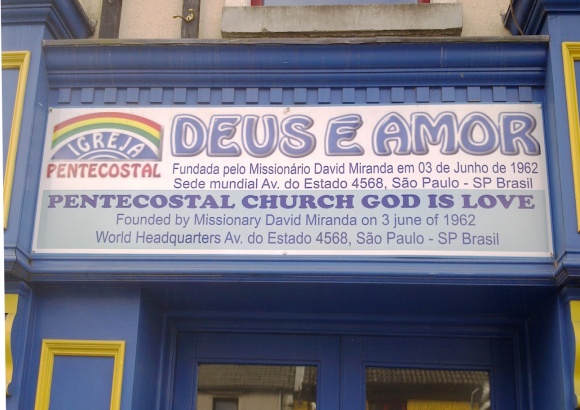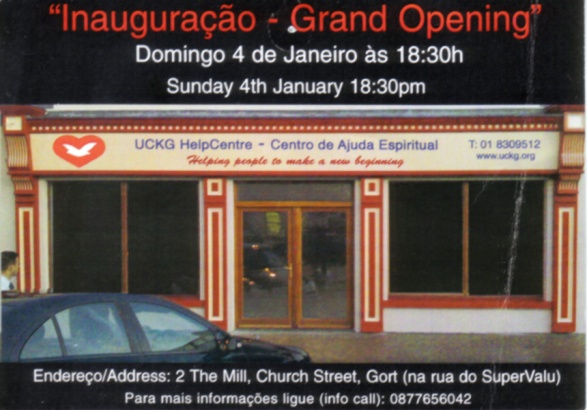 Picture 1 Evangelical Church, Gort Picture 2 Evangelical Church flyer, Gort
Roman Catholicism
As the numbers of Brazilians in Gort and Roscommon began to grow in the early 2000s, the Catholic Church recognised there was a need to provide the sacraments in Portuguese, both at the Church and in people's homes. Although Ireland already had a predominantly Roman Catholic population, a cultural transfer of religious practices from Brazilian Catholicism through Brazilian Portuguese did occur. The mass is celebrated differently in Brazil, for instance the congregation responds more vocally as they also sing and clap during the mass, akin to a Gospel service. Two priests, Fr. Kevin Keenan from the Society of the Divine Word (SVD) Order and Fr. Sean Lawlor from the Redemptorist Order, who had previously worked in Brazil as missionaries, and were familiar with both the language and culture of the Brazilians, ministered to the migrants. Fr. Kevin Keenan was based in Gort and Fr. Sean Lawlor in Roscommon, although they assisted one another when necessary. Before formal Church involvement, a lay Brazilian woman was active in organising the recitation of the Rosary in people's homes. She also arranged numerous trips to the popular Marian pilgrimage site of Knock in County Mayo. Jessica, who had been involved in the Catholic Church in Anápolis before she travelled to Ireland, saw, in 2002, the necessity to provide support for religious practices to the Brazilian Catholic community in Gort and set to her task:
for about six months....there was nothing for us in Gort...the Rosary... nothing...I started the Rosary on a Wednesday night in my house. The first night [there] was just one person...then more peoples come...A few months later about 30 people every Wednesday go to the Rosary and we organised for different houses when we get more peoples…Up to when I left Ireland I still organised the Rosary in the Church every Wednesday night...The first mass in November 2002 for us [Brazilians], so first mass was 30 November 2002. Now [before she returned to Brazil in April 2009] we have [mass] every week, yeah every week we have mass now… We have Fr. Kevin Keenan and Fr. Sean Lawlor. On the first Sunday of the month we have Fr. Sean Lawlor, and the three last weeks it's Fr. Kevin, he has mass for Brazilians in Gort three Saturdays in the month at half past eight in the night.
Roman Catholicism became a common bond that brought Irish and Brazilian people together, and is therefore also a tool for integration. Actively involved members of the community arguably feel a sense of obligation to that community and Jessica and another Brazilian Catholic, Ana, demonstrated their commitment to the Church community by cleaning and decorating the Church. Every Tuesday they would go to the Church in Gort at six o'clock to clean it, often for two to three hours at a time, after they had both finished a day's work. Another marker of integration is participation within the community; Jessica sang in the choir of the Catholic Church with her Irish counterparts, and also read during the Portuguese mass. Jessica herself believed that her involvement in the Catholic Church led to greater interaction among the Irish and Brazilians:
yeah, now we start good integration, because the last weekend before I come [back to Brazil] we have a special mass between Brazilians and Irish all together…Lots of Irish come at the end of the mass and say congratulations for me you know. Good integration now and I think it's better now. Now I am back here [laughs] after all the work...oh my god, lots of time I [pray] ask in the mass [for good integration].
The evidence suggests that these masses aided cultural contact and exchange. As well as Brazilians attending their own mass (in Portuguese, with clapping and singing), they also often attended the English mass during weekdays. On occasion, some Irish people attended the Brazilian mass too, indicating that cultural contacts through religious practice were not just one way.
As well as the regular mass for the Brazilian population, the Portuguese speaking priests also arranged Baptisms, Communions and Confirmations. Fr. Sean Lawlor, the chaplain to the Brazilian community in Roscommon, described the feelings of one woman whose child was Baptised in Roscommon: 'Juliana [Brazilian] said that it would naturally be lovely if she could have had her child baptised in Brazil, but seeing that it isn't possible she is very happy to have it baptised here in Roscommon' (Little Brazil-TV Programme, 2006). Communions and Confirmations in particular led to increased contact as the Brazilian school children, their parents, teachers and the priest all worked together to prepare the child for a specific sacrament.
Evidence from both study sites shows that the Brazilian children and Irish children received Communion and Confirmation at the same time. The ceremony was conducted in English, but specific translations were carried out by one of the priests from either Gort or Roscommon as the individual Brazilians received the sacrament of Confirmation. During this time, children and parents attended the Church together and there was a strong sense of belonging to the community. The evidence, however, suggests that many younger members of the Brazilian community only attended the Catholic Church to receive the sacraments and did not fully participate in the wider Catholic community, unlike their adult counterparts, who were regular Mass goers and involved in the Catholic Church community. Some Brazilian adults also received their first holy Communion, or were confirmed while in Ireland. Linda, a teacher in Roscommon, suggested that many of these people had converted from Catholicism to become Evangelical in Brazil, because their parents had converted when they were younger and they were forced to follow suit. Once they moved to Ireland, many rediscovered their Catholic faith and then chose to receive the sacraments they had missed after they converted.
Evangelical Churches
The establishment of a number of Evangelical Churches in Gort and Roscommon played an influential part in integrating some of the Brazilian immigrants with each other, but may have led to segregation of Brazilian immigrants and Irish people. Prior to the arrival of the Brazilians, there were no Evangelical Churches in either of the two study sites. As the population of Brazilians increased, Evangelical missionaries established a number of different types of Evangelical Churches in Gort and Roscommon. Menjivar (1999: 594) suggests that 'smaller, less bureaucratized and less hierarchical religious institutions, such as many Evangelical Churches… are better equipped to meet the kinds of challenges posed by transnationalism', which could explain their growth and popularity among the Brazilian communities in Ireland. 'These Churches are also aware of the congregations' cultural language and needs, whether these are local or transnational, and they tend to attract followers from the same racial or ethnic group' (ibid.). Research from the USA, for example, shows that strong religious networks influence 'Brazilians to convert (from Catholicism to Pentecostal Churches) because the Evangelicos offer more practical help to immigrants, such as jobs, housing and documentation' (Marcus, 2008: 224).
At least five Evangelical Churches were established in Gort and three in Roscommon, including the Assembly of God (Assembleia de Deus), God is Love (Deus é Amor) and the Universal Church of the Kingdom of God (Igreja Universal do Reino de Deus, also known as the UCKG HelpCentre), all of which were founded in Brazil. The evidence suggests that the majority of Brazilian people, over 60 per cent of the respondents who divulged their religious affinity, were involved in one of the above Evangelical Churches. Some of the respondents spoke of their reasons for attending the Evangelical Church: the language was one reason; all the Evangelical Churches held services in Portuguese, all the time, not just once a week like the Catholic Church. The pastors are heavily involved in supporting the community, provided that the community member seeking help is a member of the Church. For example, they have parenting classes, youth work projects, and a crèche; they also provide assistance for those who are in dire need and on occasion purchase airplane tickets to help Brazilians to return home. Yet, many people in the Irish community believe it is a 'closed shop', in that they will not help just anybody, only members of the Church, who are obliged to contribute 10 per cent of their weekly earnings to the Church. A social worker in Gort believes that despite the cynical money angle of the Church, they 'take the weight off the community development centre, because the people are all so well behaved, and they take care of their own stuff so…in a way it's better than nothing, but I wish it was more inclusive, you know for everybody in the community'.
The findings show that the Evangelical Church does provide practical assistance to many. Rogerio was a member of the Assembly of God in Brazil. When he arrived in Roscommon he explained how he got accommodation via the Evangelical Church: 'the first thing I did when I came to Roscommon was go to the Evangelicals, the Assembly of God. I asked could they help me with somewhere to live and they arranged for me to stay with a family. So I went to live with them'. Yet despite this, Rogerio admitted that he went there because he knew they would help; he does not attend regular services with the Assembly of God, maybe only attending once a month. Others also [jokingly] described how they went to the Catholic Church sometimes, if there was tea or a meal afterwards, and to the Evangelical Churches on other occasions for parties or to get to know other Brazilians. Luana said: 'I was involved in the Evangelical Church and the Catholic Church....I don't know what I am [laughs]'. Other evidence from this research illustrates that Brazilians move between the two Churches. A social worker from Gort explained, in his opinion, why they do this: 'if there's an excursion going from this Evangelical Church they are all on that bus, if there's another one going from the Catholic one, down to Cork, the next Sunday, they jump on that. It's like Aldi and Lidl [discount supermarkets], you know, whoever's got the best deals on for the week, they just go there. They go to a Catholic service or a Protestant service or whatever'.
The evidence also suggests that, as in the USA (Marcus, 2008), a similar pattern of conversion for practical reasons was evident. According to evidence from key community members, some Brazilians either converted or joined the Evangelical Church for economic reasons. Many key members of the Brazilian community, who had established small businesses, were members of the Evangelical Church and Brazilians were aware of this. Research on Latina migrants in Israel suggests also that participation in religious activities can open an alternative path to social mobility (Raijman, Schammah-Gesser and Kemp 2003: 746) and, possibly, Brazilian involvement in the Evangelical Churches enabled this social or economic mobility. However, not all Brazilians were religiously involved, as indicated by a teaching assistant in the primary school in Gort: 'most of them [Brazilians] they don't have time really, they are always working and they don't have that time to be involved in the Churches'.
Due to the fact that no Irish people attended nor were active in any of these Churches, there was segregation in the Evangelical community. It is important to emphasise that this segregation was only related to religious practice and, in the wider community, the majority of Evangelicals were not segregated. Only one of the Evangelical Churches, the Assembly of God (Assembleia de Deus) encouraged its members to socialise exclusively with members of the Church and it also discouraged the consumption of alcohol and the playing of sports. Within the Evangelical Churches, the pastors in particular kept to themselves. For this research an interview with some of the pastors of these Churches was sought and arrangements were made, but the pastors invariably cancelled every interview. This suggests that they may have been reluctant to discuss certain aspects, including funding arrangements: some of the Churches encourage people to donate at least 10 per cent of their wages and also persuade many to sell material possessions such as furniture and electrical goods and give the money to the Church. Therefore, the rise of the Evangelical Churches has led to some religious segregation, as the Brazilians attended a number of disparate Churches and perhaps, in some instances, also impeded integration with other Brazilians and the Irish community. In the Catholic Church, however, the attendance of Brazilians at regular English speaking masses, and vice versa, as well as the reception of sacraments, contributed to greater integration between the Brazilians and the Irish.
Conclusion
This article has provided a brief insight into some of the religious practices of Brazilian migrants in Ireland. The evidence has shown that there are a large number of different Churches in the two Irish study sites, with many Brazilian migrants involved, to varying degrees, in some form of religious participation. As a tool for local integration, the levels varied among the different Churches, with Brazilians of Roman Catholic persuasion being best disposed towards interacting with the local population, due, by and large, to their shared religion. Members of the various Evangelical Churches, however, remained segregated from both the Irish community and from other Churches, both Catholic and Evangelical. The findings also suggest that the motivations for their participation also varied between Churches; arguably some of those who attended the Evangelical Churches did so in search of employment or accommodation opportunities.
* Sincere thanks to Dr. Mary Cawley in the School of Geography and Archaeology at the National University of Ireland, Galway for providing feedback on an earlier draft of this article and for supervising the PhD research on which it is based. My thanks to all the people who took part in the research and for all the assistance I received from people in Ireland and in Anápolis, Brazil. I gratefully acknowledge funding provided by the Society for Irish Latin American Studies through the Irish Latin American Research Fund, which gave me the opportunity to conduct research in Brazil. I wish to also acknowledge funding from the Irish Research Council for the Humanities and Social Sciences. Finally I would like to thank Dr. Claire Healy for the invitation to write this article.
Bibliography
- Cohen, Anthony, 'Culture as Identity: An Anthropologists View' in New Literary History 24, 1993, p.195-209.
- CSO (Central Statistics Office) Census 2002, Volume 4, Usual Residence, Migration, Birthplaces and Nationalities. (Dublin: Government Publications, 2003).
- CSO (Central Statistics Office) Census 2006, Volume 4, Usual Residence, Migration, Birthplaces and Nationalities. (Dublin: Government Publications, 2007).
- Fortuny-Loret de Mola, Patrícia 'The Santa Cena of the Luz Del Mundo Church: A Case of Contemporary Transnationalism', in Ebaugh, H.R., and Saltzman-Chafetz, J. [eds] Religion Across Borders: Transnational Immigrant Networks. (Oxford: AltaMira Press, 2002) p.15-50.
- Levitt, Peggy 'You Know, Abraham Was Really the First Immigrant': Religion and Transnational Migration' in International Migration Review 37, 2003, p. 847-873.
-

Little Brazil, Gort, Ireland

television programme, Dublin: Raidió Teilifís Éireann (RTÉ), broadcast 5 October 2006.
- Maher, Garret, 'A Transnational Migrant Circuit: Remittances from Ireland to Brazil' in Irish Geography 43, 2010, p. 177-200.
- Marcus, Alan, P, 'The Contexts and Consequences of Brazilian Transnational Migration Processes: An Ethnic Geography in Two Countries', (Unpublished PhD Thesis, University of Massachusetts, Amherst), 2008.
- Menjivar, Cecilia 'Religious Institutions and Transnationalism: A Case Study of Catholic and Evangelical Salvadoran Immigrants', in International Journal of Politics, Culture and Society 12, 1999, p. 589-612.
- O'Neill, Bernard, 'Brazil to host 2014 World Cup' in Metro Eireann, available online
(http://www.metroeireann.com/index.php?option=com_content&task=view&id=842&Itemid=26), accessed 18 December 2007.
- Pargament, Kenneth, The Psychology of Religion and Coping: Theory, Research and Practice. (New York: Guilford Publications, 2001).
- Riccio, Bruno, 'From "Ethnic Group" to "Transnational Community"? Senegalese Migrants' Ambivalent Experiences and Multiple Trajectories' in Journal of Ethnic and Migration Studies 27, 2001, p. 583-599.
- Raijman, Rebecca, Schammah-Gesser, Silvina, and Kemp, Adriana, 'International Migration, Domestic Work, and Care Work: Undocumented Latina Migrants in Israel' in Gender and Society 17, 2003, p. 727-749.
- Williams, P.J., and Fortuny-Loret de Mola, P. (2005) 'Looking for Lived Religion in Immokalee, Florida' in Lived Religion, available online (http://lanic.utexas.edu/project/rla/papers/livedreligion.pdf) accessed 21 July 2008.