Cover of a 1950 publication about
"Amanda Allen's Children City" orphanage
(Biblioteca Reservada del Congreso, Buenos Aires)
Eventually, the Foundation went beyond the geographical boundaries and extended its medical and social relief plans to other Latin American countries sending ambulances, nurses, clothing, food and medicines. After the earthquake of August 1949 in Ecuador, the Foundation sent six FAMA [16] planes carrying food, clothing, medicines, instruments, physicians and nurses. Amanda Allen was a member of the aid team travelling in one of the Foundation buses when it fell on a cliff with a result of several wounded. Moreover, on the flight back to Buenos Aires, the plane set fire in Castilla and four crew members died. Amanda Allen escaped but was seriously wounded. Other staff member, the officer Guillermo MacLoughlin was also wounded. Both were awarded by Perón and Evita in a public homage at Colón theatre of Buenos Aires. One of the most important works of the Foundation, "Ciudad Infantil", [17] was named after Amanda Allen in spite of the toponymic fashion taking place during this period, by which the majority of public institutions, cities and even provinces were renamed before the president and the first lady. [18]
Other Irish Argentine women had different roles in the political activity of this period, including Catalina Allen, Norma Egan, Nila Lloyd, and Margarita Wellington O'Berty. They were members of the first significant women's mobilisation in Argentina. In 1945 Bulina G. O'Neill was a member of the Women's Organisation Unit in the Labour Party. In July 1949 Eva Perón created the Women's Peronist Party to channel out the political movement of women after the proclamation of the suffrage act of 1947. The party was chaired by Evita and was fundamental to Juan D. Perón's electoral victory in 1951.
The Peronist Women's Party was established on 26 July 1949 with a basis of twenty-three delegate census takers – one from every province or national territory – who were appointed directly by the party's president. One of these delegates was Catalina Allen. Their first assignment was to take the census of Peronist women in the country. The delegates represented Eva Perón and followed her in the organisation's hierarchy. Evita portrayed this group of "very young women ... My assistants were tireless social workers, fervent Peronists with no time to themselves, and fanatic supporters of Perón's cause. I required from them great sacrifices, like leaving their homes and jobs. Virtually, they left their lives to start with a new, different, intense and difficult one. Those were the women I needed, untiring, fervent, fanatic... Our venture required brave women, willing to work day and night" (Perón 1951: 291).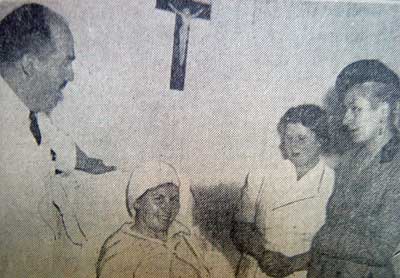 Eva Perón calls on Rivadavia Hospital to visit Amanda Allen
(Democracia, 2 October 1949)
Catalina Allen was assigned to Buenos Aires, the most populated and important province for the elections, which at that time has a potential size of 1.2 million women voters. In a time when it was unusual for women to give public speeches, Catalina Allen was an earnest speaker. When she took charge of her new responsibilities, using elements of the religious discourse, Allen noted that "the only thing we wish and aspire to is to become authentic, loyal and disinterested missionaries of Perón's Justicialist teaching, and to be followers of our distinguished leader Evita, who personifies the essence and identity of the Peronist women's movement" (El Laborista, 6 November 1949). Allen was responsible for the organisation of the new party in the Buenos Aires province, a task involving the promotion of new memberships and the opening of "basic units" (regional working groups) composed exclusively of women. Additionally, she appointed sub-delegates who, in their turn, would lead individual women basic units. There were at least two basic units in every district, therefore Catalina's work must have been extremely burdensome. Everyday work included taking census of the district, promoting memberships, preaching the Peronist doctrine, giving talks and organising meetings. Furthermore, Catalina Allen would implement special courses for women as well as research the social needs in the province, so that the party would network with Eva Perón Foundation. Thanks to the toilsome efforts of Catalina Allen and her colleagues, sixty-three per cent of the women constituency in Buenos Aires voted for Peronist candidates. For unknown reasons Allen was not appointed MP candidate, and after the elections she cut herself off politics for ever.

Catalina Allen, delegate of the Women Peronist Party in
Buenos Aires province
(Democracia, 30 October 1949)
Sub-delegates worked in the neighbourhood trying to attract new members to the party. There were over 3,600 sub-delegates throughout the country, some of them with Irish roots. Nila Lloyd (b. 1922), a social worker and nurse graduated from the Red Cross, chaired up to 1955 a basic unit in the significant constituency of Belgrano (1940 Chenault street). In 1949 Margarita Wellington de O'Berty was appointed sub-delegate in San Antonio de Areco. However, she did not succeed on meeting the high expectations of skills and efforts and therefore she was considered redundant. O'Berty was replaced by Norma Egan, who was directly appointed by Eva Perón. [19] Egan went to visit the Foundation headquarters in search of a job, and in an audience with Evita "the Señora asked me many things and told me that she needed my services to support the political activity" (author's interview with Mrs. Egan). In the region of San Antonio de Areco, with an overwhelming rural population, Egan travelled through the camps driving a Land Rover jeep. Landowners and estancieros "knew me well, since my father owned a herd of horses and my aunts were the local teachers. One of them was the schoolmistress and they helped me with my job." Norma asked for authorisations from the estancieros and then addressed the wives of cattle hands and labourers. "I used to tell them how pretty she [Evita] was, and that people usually left [the Foundation offices] with gifts and machines ... and they were delighted ... I explained that they would live better and asked them to help us with their votes." In order to get new memberships Norma Egan "went to the public houses and ate salami with a glass of wine, or sipped maté when visiting the families." After seven months of intense and successful work in San Antonio de Areco, Evita appointed Norma Egan as MP candidate to the provincial parliament of Buenos Aires. Influenced by their gender-biased view of political activities, when they learnt the news the men of Areco "got mad at me and wanted to kill me ... But I replied that that was granted by Eva Perón." On 11 November 1951 Norma Egan was sworn MP with the first group of elected women in the province.
This brief account of Irish-Argentine men and women who played significant political roles in the early Peronism is a short illustration of their involvement in politics. Understanding their interaction with the larger context of the country's history may help to establish an adequate background to the later participation of thousands of Irish and other immigrant families in the last Peronist period (1973-1976) and the subsequent Dirty War derived of the conflict between the military forces and diverse guerrilla groups. Due to feuds and rancours that are frequently prevalent among Argentines even in present times, there is a particular scarcity of primary sources in many periods of the country's history. Hence, it is our duty to reassemble the pieces, and I hope that family or personal acquaintance with those who had other political roles will help to complete these neglected stories.

References and Newspapers
- Perón, Eva, La razón de mi vida (Buenos Aires: Peuser, 1951).
The Southern Cross (Buenos Aires).
<![if !supportFootnotes]>
---
<![endif]>