Bring Them Home
The three men in question repeatedly denied the charges made against them. James Monaghan stated that 'the charge of training the FARC is a false charge, based on false evidence. The training never happened, and I and my friends are therefore not guilty' (Ruane 2003: 11). Defence lawyer Peter Madden affirmed that 'there was no real evidence against them' (6). Furthermore, according to the chairperson of the Bring Them Home campaign, Sinn Féin Member of the Local Assembly, Caitríona Ruane, during their imprisonment Monaghan, McCauley and Connolly had 'been subjected to inhuman and degrading treatment, threats to their lives, fears that their food was being poisoned, worry about dangers to their families and friends visiting them' (7). She characterised Colombia as 'a country where abuse of human rights is routine, systematic and relentless' and went further to say that 'the Colombian military and prosecutor have fabricated a case against these three men' (7).
Although it was published before the ruling by the Appeals Court, a document edited by Ruane, Colombia: Judge for Yourself, refers to the same facts and represents a counterbalance to the statements contained in the charges. It includes the declarations of the three accused men to the court in Bogotá, summaries of the process, documents supporting the cause and, of particular interest, statements by the observers. Observers were selected among renowned solicitors and barristers, specialists in international law, human rights experts, legislators, social workers and trade union leaders. The observer reports are in general comprehensive, clear and appear to be technically-sound, though I cannot claim any judicial experience or knowledge of criminal law and procedures. In particular, the reports by Ronan Munro, Natalie Kabasakalian and Shaun Kerrigan are very helpful in understanding the defendants' plea against the charges.
The observers are collectively described in Ruane's document as an 'International Delegation' (9, 19, 67) or 'brave people from three continents (Australia, Europe, and North America)' (7). Nevertheless, in the context of this article, it is important to remark that they are exclusively from Ireland, the US and Australia. There is a significant lack of observers from other parts of the world, particularly from Spanish-speaking countries, and of observers with experience of the criminal law system in Latin American countries.
Moreover, some of the observers' comments reveal their ignorance of the Colombian situation, and others may be perceived as patronising in relation to local practices. Commenting on the prosecutor's harsh question to a witness for the defence, Seán Crowe, TD for Dublin South West and Sinn Féin's spokesperson on Science and Education and Community Affairs, remarked that 'as an Irish Parliamentarian I don't believe that anywhere in the civilised world would this type of insulting behaviour be allowed' (21). Indeed, the civilised world mentioned by Seán Crowe does not seem to include Colombia. Finian McGrath, Independent TD in Ireland, rightly alluded to the violent methods of the paramilitary groups that oppose FARC guerrillas, but he demonstrated a particular ideological bias when he asserted that 'this is Colombia and anyone left or centre is an "extremist" or a "legitimate target" for the death squads' (24). Notwithstanding its clear structure and argumentation, Irish Senator Mary White's report maintained that 'political ex-prisoners in such a situation [trying to enter a country without a waiver visa] often consider their lives are in danger from subversive groups in many countries, particularly military and paramilitary groups in South and Central America' (28). In his concluding remarks, Barry McElduff MLA, member of Sinn Féin's Six County Executive and Chairperson of Sinn Féin in County Tyrone, stated that he had no 'real hope that these men could ever receive a fair hearing or any kind of justice in Colombia' (31).
Certain remarks from the observers Patrick Daly, Paul Hill and Pat Fowler are regrettable and do not help to objectively evaluate the defendants' stand. The Irish solicitor Patrick Daly makes comparisons with Ireland, where 'justice must be done but also must be seen to be done.' This statement seems to be irrelevant in the context of the Colombian judicial system. In this respect, Daly observed that 'things often move slowly in Colombia' (36), without any consideration to the different meanings that time may have to diverse cultures. He went on with assessments 'by way of comparison' with Ireland or 'by international standards' (38), which are in fact limited to Daly's experience in English-speaking countries. Paul Hill, one of the Guildford Four, [6] echoed the other observers in stating that 'as one who has observed trials in the North of Ireland, England, Scotland, Holland, America (north and south) Australia, I can honestly say I know of no other country where this case would be allowed to proceed.' He reinforced his views by pointing to the sequence of witness declarations dictated by the judge, and commented that it 'was in my view bizarre and would not be acceptable in any normal jurisdiction' (39). By normal he was certainly referring to the courts of which he had experience, reducing in this way the context of his judgement to a few legal systems in the world. The same can be observed in Pat Fowler's report, which is based on what is customary 'in most courts' or what is judged by 'most people in world' (63); vague statements that are not substantiated.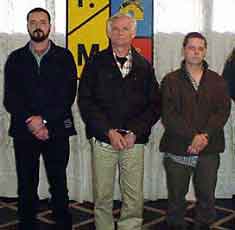 The three accused men shortly after their arrest
(Photo: Truth Monitor)
The issue of language and its cultural consequences is relevant to this analysis. Steve McCabe, a US-based lawyer and member of the Brehon Law Society, complained that 'no translation services were provided during the first day of the trial' and he regarded this as 'a case of passing the buck and perhaps an effort to preclude the [observers'] Delegation from understanding the nature of the testimony and the proceedings' (41). For his part, in his comprehensive and well-structured report, the Australian lawyer Shaun Kerrigan stated that 'after the first real public hearings in December 2002 the Presiding Judge adopted the philosophy that a translator would only be provided by the Colombian Government or was only required to be provided by the Colombian Government when the accused were actually present in Court or the persons giving evidence to the Court's first language was English' (67). Therefore, the observers' delegation had to obtain a translation themselves. Their complaint about the lack of translation services could be seen as a confirmation of their prejudiced attitudes towards a different culture in which the first language is not English. However, taking into account their qualifications, one would think that it is just one of their conditions in providing an accurate and impartial report. Subsidiary to the issue of language is the manner in which some observers spelled the name of the country. This is not a trivial issue given that they wrote their report subsequent to their visit. They should therefore have shown at least a minimum of respect for the country's name, which is misspelled by Des Bonass ('the Columbian military', 32) and Ronan Munro ('the Vice-Minister of Foreign Affairs of Columbia', 79, my italics). Frequently in the English-speaking world Colombia is incorrectly written as Columbia. Yet one would expect that international observers selected on the basis of their objectivity to report on this trial would be aware of the difference between the Republic of Colombia and Canada's British Columbia or the District of Columbia in the US.
Ireland in Colombia - Latin America in Ireland
In order to obtain first-hand opinions from people interested in the trial of the three Irishmen, I conducted interviews by email with people in Colombia and in Ireland.
Johanna Cortés Conde is a young barrister at the courts of Bogotá. She was not involved in any stage of the judiciary process in relation to the accused Irishmen, though she is acquainted with the opinions prevalent in Colombia concerning the affair. Cortés Conde understands that FARC is connected to other international guerrilla groups, including Sendero Luminoso in Peru, and that they may have links with president Hugo Chávez of neighbouring Venezuela. She expressed the wish that Colombia and Ireland would improve co-operation, and suggested that the peace process in Northern Ireland could serve as a model for Colombia. In Colombia, people know very little about Ireland, and probably for this reason the trial of the three Irish prisoners has been underrepresented in the local media. Therefore she does not believe that this incident has damaged Ireland's reputation in Colombia. FARC has managed to garner some support in European countries, and is sometimes viewed as an organisation which protects the poor, though in reality - she says - they are mercenaries acting in collusion with drug-trafficking cartels. Corruption in Colombia's judiciary system is more rampant than in most European countries. However in recent times standards have improved significantly. Since the adoption of the new constitution of 1991, recourse to protection may be called upon in any context by any person, including foreigners. Basic rights like due process are constitutionally guaranteed. In addition, regulatory bodies are accessible to anyone and therefore transparency during the trial is guaranteed.