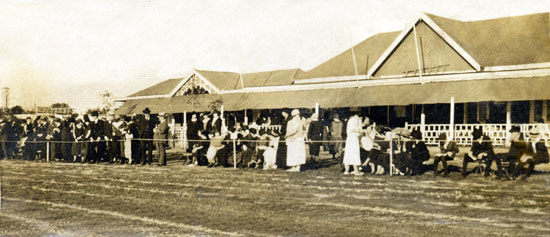 Athletics meeting at Santo Tomé, 1926
(Hurling Club collection)
The Hurling Club and Identity
The early group of predominantly male, Catholic and urban middle-class employees who started the Hurling Club in the 1920s resisted the Anglophile attitudes typical of many contemporary Irish and Argentine landed families. Though hurling originally represented a factor of differentiation from these other groups, it also led to insularity. The adoption of the more widely played sports of rugby and hockey enabled club members to assert their identity in the wider community. Whilst hurling was first viewed as masculine entertainment, perceptions began to change from the 1930s onwards, when women were not only accepted as companions of the male members, but as full members themselves. The success of female hockey is a manifestation of this successful integration of women in the Club.
The Club still continues to successfully maintain an Irish identity, though this is being challenged through a decline in participation from members of the Irish-Argentine community and a concomitant rise in members from the wider community. The then Irish Foreign Minister Dick Spring paid an official visit to the Hurling Club in 1996 and recalled that 'it was a memorable experience to see the green jersey, complete with shamrock, worn with distinction by the players of the Hurling Club with such names as Scully (sic), [14] Rush and McAllister - in a match against the Rugby Club of Buenos Aires (sic)' (Spring, 1996). To some extent the impact on the unique identity of the club through the diminution in participation from the Irish-Argentines has been offset by the large number of touring Irish rugby clubs, other sporting clubs and official delegations from Ireland that visit the club on a regular basis. In recognition of its strong Irish-Argentine ethos and its capacity to continue the Irish-Argentine sense of identity and links with Ireland, in 2007 the Club was given a grant by the Irish Department of Foreign Affairs as part of their annual grants programme to Irish community organisations in the Southern Hemisphere.
Ronnie Quinn
Member of the Hurling Club, Buenos Aires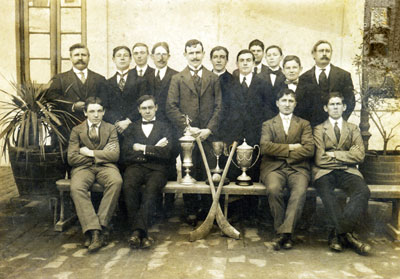 St. Patrick hurling team at Mercedes, 1917
(Hurling Club collection)
Acknowledgements
I am extremely grateful to Robbie McCormack for generously sharing his unpublished work, and to Jimmy O'Durnin of The Southern Cross for providing useful material from the newspaper's archives.
Notes
[1] Hurling is a game similar to hockey, played with a small ball and a curved wooden stick called a hurley. You may strike the ball on the ground, and, unlike hockey, in the air. You can also put the ball on your hurley and carry it.
[2] The modern Irish language word for hurling is iománaíocht and a hurley stick is camán.
[3] Mercedes is a town in the province of Buenos Aires. It is located 100 km west from the city of Buenos Aires and 30 km south west of Luján.
[4] Capitán Sarmiento is a town located around 160 km north of the City of Buenos Aires.
[5] Swift was a company set up in 1907 to export meat products to Europe.
[6] Agar Cross began importing and selling machinery and farm equipment in 1875, later branching into windmill sales and the agrochemical sector.
[7] Duperial is an Argentine chemical company.
[8] Bearna Baoghail ('gap of danger'), refers to the moment in a siege when the fortification has been breached and the area is extremely dangerous for defenders. These words were included by Peadar Kearney in his Soldiers Song (1907), which in the Irish language is the national anthem of Ireland: 'Tonight we'll man the Bearna Baoghail, / In Erins cause come woe or weal, / 'Mid cannons roar and rifle's peal, / We'll chant a soldier's song.'
[9] Santiago Martín Ussher (1867-1960), Roman Catholic priest, was born in San Andrés de Giles. He received the orders on 22 December 1894. Ussher was parish priest of Baradero and a member of the ecclesiastical courts of the Buenos Aires archdiocese. He published Los Capellanes Irlandeses en la Colectividad Hiberno Argentina (Buenos Aires, 1954).
[10] Translated as 'Holy Places'.
[11] However, Fraxinus sp., including American and European ash, is the genus most frequently cultivated in the streets and parks of Buenos Aires.
[12] Hurlingham Club was founded in 1888 by influential figures in the British Community led by John Ravenscroft, as a sporting and social club.
[13] In English 'ovenbirds'.
[14] The surname referred to should have been Scally rather than Scully.
References
- Cronin, Mike, 'An historical identity: Historians and the making of Irish nationalist identity in the GAA', Football Studies, Vol. 1 (August 1998).
- Fanning, Brendan, 'Hurling's "darker side" made it to Argentina', The Irish Independent, 3 June 2007.
- Hurling Club, website (http://www.hurling-club.com.ar), accessed 7 January 2008.
- King, Seamus and Darby, Paul, 'Becoming Irlandes: Hurling and Irish identity in Argentina', Sport in Society, Vol. 10, No 3, May 2007, pp 425-438.
- Mandle, W.F. 'Sport as Politics' in: Cashman and McKernan Sport in History (Brisbane 1979, University of Queensland Press).
- McCormack, Robbie 'Historia del Hurling Club' (Buenos Aires: unpublished manuscript, 2007).
- Murray, Edmundo, Becoming Irlandés: Private Narratives of the Irish Emigration to Argentina (1844-1912) (Buenos Aires: L.O.L.A., 2006).
- Spring, Dick, 'Neglected part of the Irish diaspora', The Irish Times, 27 April 1996.
- The Southern Cross, Número Centenario (Buenos Aires, 1975).
- Whelan, Kevin, 'The Geography of Hurling' in: History Ireland, 1:1 (1993), pp. 27-31.