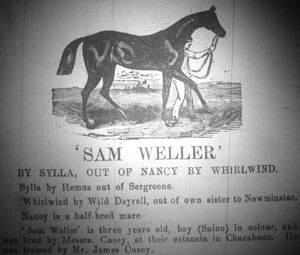 'Sam Weller [...] a three years old, bay (Saino) in colour, and was bred by Messrs. Casey, at their estancia in Chacabuco, He was trained by Mr. James Casey'
(The Southern Cross, 12 October 1883)
As in Salto and other provincial towns, horseracing was frequently organised and led by Irish settlers and their families, who were keenly involved in breeding and other phases of the activity. In Lobos, Santiago Casey (1843-1899) became a distinguished turfman (breeder) and owner of one of the most important studs in his time. Other Irish families, like Duggan, Dowling and Gaynor, were prominent in the organisation of races and in breeding.
In Venado Tuerto, a place with large Irish and British populations, Dublin-born estanciero John Macnie observed that 'riding amongst the peons has deteriorated, and much improved among the leisured classes in the Argentine. The first is due to the use of bretes and corrales for working cattle, smaller paddocks, improved methods in marking, etc., and tamer cattle in consequence. [...] As regards the leisured classes, [...] they are now bitten with polo and racing, and the time which the "joven distinguido" gave to Calle Florida is now often spent on training polo ponies and race-horses; and as the time passes on, there is little doubt that the better class Argentine will give himself wholeheartedly to polo, just as the less wealthy has given himself to football and tennis' (Macnie 1925: 142-144). For the first English races in Venado Tuerto only polo ponies were used. Among the first breeders to get a better class of horse for the races and train them were George O'Connell, F. Bridger, Pancho Thompson, and J. Hearne. Thanks to their pioneering work, some twenty years later the Coronation Cup was held to commemorate the coronation of King Edward VII in 1902 (800 metres for any horse or mare, weight 75 kilos). Three horses belonging to one owner (Pancho Thompson) arrived first, second and third. At another race meet, riding in a steeplechase, [6] Thompson 'broke a girth at the first jump and the other went at the second jump. Feeling the saddle slipping, he realized what had happened, and leaning forward he pulled the saddle from under him and put it over his right arm. He took the rest of the jumps barebacked, and although hampered by carrying the saddle, he manage to scrape home a winner' (Macnie 1925: 148).
In the 1880s the activity was mature enough to be undertaken at a national level, which took place with the inauguration of the Stud Book in Argentina. Names like Duggan, Maguire, Murphy or Gaynor are intimately associated with the development of thoroughbred activities in the last decades of the nineteenth century. Eduardo Casey (1847-1906), himself an exceptional rider, was a passionate breeder and importer of famous stallions, as well as a key member of the committee that commissioned the construction of the La Plata race course in the capital of Buenos Aires province. [7]
Eduardo Coghlan observed that almost twenty of the one hundred founders of the exclusive Jockey Club of Buenos Aires in 1882 were Irish or descended from Irish immigrants (Coghlan 1987: xxv). This disproportionate figure illustrates the social and economic advancement of some of the former farming families who left Wexford and the Midlands in the first half of the nineteenth century to join the landed elites of the Río de la Plata. However, the vast majority of the Irish in Argentina remained landless peasants who could never hope to be anything other than labourers on an estancia. The dream of being landlords had to be abandoned, even if they succeeded in riding the beautiful horses of the Pampas.
Edmundo Murray
Notes
[1] 'Enough of horseracing, no more gambling / a hard-contested ending I will not see again / but if on Sunday a pony looks like a sure pointer / I'll bet everything again, what can I do?'
[2] The first time the word gaucho appeared in print was in Noticias secretas de América by Antonio de Ulloa and Jorge Juan y Santacilia (1743), to describe the rural inhabitants of the Chilean mountains. Furthermore, one of the most curious – and indeed Anglo-centred – of the many etymological interpretations is that of the English painter Emeric Essex Vidal (1820): 'all countrymen are called by the inhabitants of Buenos Ayres gauchos, a term, no doubt, derived from the same root as our old English words gawk and gawkey, adopted to express the awkward, uncouth manners and appearance of those rustics' (Essex Vidal 1820: 89).
[3] Crioulo in Brazil, costeño and morochuco in Peru, corralero in Chile, and llanero in Venezuela.
[4] Other games on horseback included the sortija, in which gauchos tried to stick a thin cane through a tiny ring while riding their mount at full speed, and tug-of-war between two or more riders.
[5] From Ballinacarrigy, a town on the Royal Canal in the parish of Kilbixy, County Westmeath. Hundreds, perhaps thousands, of young Irish farmers and labourers emigrated from Ballinacarrigy and its environs to Argentina in the mid-nineteenth century.
[6] Steeplechase is a horse race (originally with a steeple as the goal) across the countryside or on a racecourse with ditches, hedges, and other obstacles to jump.
[7] The race course at La Plata was inaugurated on 14 September 1884 with an attendance of 4,000 persons. Casey's fillies won the two opening races 'Premio Inauguración' and 'Gran Premio Ciudad de La Plata'. The current 'Premio Eduardo Casey' is an important clásico, celebrated every year at La Plata race course (1,400 metres, reserved for horses aged five or more years who have won at least three races).
References
- Anastasia Joyce Collection, letters by John Murphy of Salto. Society for Irish Latin American Studies, Manuscripts and Rare Books Collection, Universidad de San Andrés, Biblioteca Max von Buch. Website (http://biblioteca.udesa.edu.ar/colecciones/britanica/Joyce/index.htm), cited 18 January 2008.
- Brown, Matthew, Adventuring through Spanish Colonies: Simón Bolívar, Foreign Mercenaries, and the Birth of New Nations (Liverpool: University of Liverpool Press, 2006).
- Bulfin, William, Tales of the Pampas (Buenos Aires: L.O.L.A., 1997). First edition by Fisher Unwin (London, 1900).
- Caldcleugh, Alexander, Travels in South America, during the years 1819 - 20 - 21: etc. (London: John Murray, 1825). Two vols.
- Davis, Graham, Land! Irish Pioneers in Mexican and Revolutionary Texas (Texas A&M University Press, 2002).
- Essex Vidal, Emeric, Picturesque Illustrations of Buenos Ayres and Montevideo consisting of twenty-four views, etc. (London: R. Ackerman, 1820). Reprint (Buenos Aires: Mitchell's English Bookstore, 1944).
- Hanon, Maxine, Diccionario de Británicos en Buenos Aires (primera época) (Buenos Aires: author's edition, 2005).
- Hudson, William Henry, The Naturalist in La Plata (New York: E. P. Dutton, 1922).
- Jones, Tom B., South America Rediscovered (Minneapolis MN: University of Minnesota Press, 1949).
- Kilbeggan Races, website (http://www.kilbegganraces.com/). Cited 12 December 2007.
- Macnie, J., Work and Play in the Argentine (London: T. Werner Laurie Ltd., 1925).
- Murray, Thomas. The Story of the Irish in Argentina (New York: P.J. Kenedy & Sons, 1919).
- Slatta, Richard W., Gauchos and the Vanishing Frontier (Lincoln NE, University of Nebraska Press, 1992).