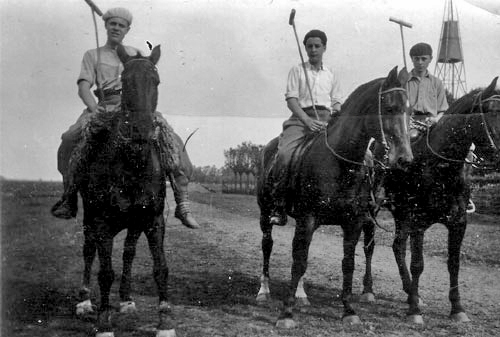 Polo practice at La Espadaña. Luis Garrahan, Tomás Rooney Maxwell, and Alfredo MacDonough playing with home-made mallets, Basque berets and 'bombacha' breeches, 1932
(Laura MacDonough Collection)
Jack Nelson (1891-1985), the son of John Nelson from County Kildare, came to Argentina to build up the meat-packing business. He was an outstanding player and rancher. According to his obituary, published in La Nación, Buenos Aires' leading daily newspaper, 'he excelled in whatever sport he took up: polo, golf, tennis, rowing, cricket, show jumping, gentleman rider, athletics.' As president of the Argentine Polo Association he continued promoting the sport, locally and abroad. He recalled his own experience when with his brother Luis/Lewis Lacey and other Argentines, he played in the 1922 English season. Their reception was quite frosty, but the English were forced to acknowledge the Argentine teams' superiority as they won almost every match they played.
The 1940s was characterised by a duel of titans between the teams of Venado Tuerto, formed by Juan and Roberto Cavanagh and Enrique and Juan Alberdi, and El Trébol (the shamrock) formed by Luis and Heriberto Duggan and Julio and Carlos Menditeguy. Both teams played many a memorable final in the grounds of Palermo, alternating on winning the Argentine Open Championship. Also, Cavanagh, together with Alberdi, won the Polo World Cup in 1949, as well as Argentine Open on several occasions and the Cup of the Americas (several other players of Irish origin excelled in these competitions as well). Luis J. Duggan of El Trébol was only the second Argentine, and the first Irish-Argentine, to attain the ten goals handicap, in 1943.
Recent Times
Passion for polo is passed down from generation to generation among Irish-Argentines, who excel at various levels of the game. Indeed many have achieved success and recognition in European and American competitions, demonstrating the excellence of Argentine polo. Irish-Argentine surnames such as Maguire, Donovan, Ham, Dowling, Moore, Donnelly, O'Farrell, Morgan, Rooney, Hope, Cullen, Schoo (Shaw), Hearne and many others, form a legion of players, of different ages, who are considered outstanding in the sport.
On different family estancias with Irish connections many teams and clubs have been formed, as was the case with 'La Alicia', a team that won the Bartolomé Mitre Cup in 1968. The team was composed of Miguel and Juan Lalor, Alberto O'Farrell and Douglas MacDonald, all Irish-Argentines.
A player who merits special mention is Eduardo 'Gordo' Moore, who not only excelled as a player, but was instrumental in the development of professional polo in Argentina. His best pupil was, without a doubt, Gonzalo Pieres Garrahan, who won many championships with his family club 'La Espadaña' and with 'Ellerstina', including winning the Argentine Open eight times and achieved the highest handicap of ten goals. Following his retirement from playing, he has become an important promoter of the sport in Argentina and abroad, and is at the same time the most important breeder of polo horses in Argentina.
Pieres is the grandson of Thomas Garrahan, owner of the estancia 'La Espadaña', and a member of a large extended family, who excelled in the sport. Other surnames inextricably linked with Argentine polo and who are descendents of the Garrahan family include: Crotto, MacDonough and Buchanan. Also among them are Alvaro Pieres, national-team coach, Gonzalo (Jr.) and Facundo Pieres, both sons of Gonzalo and possessing the maximum ten goals handicap. Last year Pablo MacDonough joined their ranks, obtaining the maximum handicap.
Besides being a polo player, Alfredo Lalor, grandson of John Lalor, a native of Blessington, County Wicklow, who arrived in the country in 1880, became involved in the administration of the sport. Alfredo Lalor was Chairman of the Argentine Polo Association (APA), the governing body of the sport in Argentina, and for many years, president of the Jockey Club. He promoted both national and international competitions. The Jockey Club's main field, where the 'Mundialito Cup' is played, bears his name. His brother Luis Lalor, also an Open winner, and Jorge O'Farrell, have presided over the APA. Another Irish-Argentine Carlos Lacey was the first secretary of the APA in 1922. As it was mentioned before, Jack Nelson had three tenures as president of the Association.
In women's polo, Irish-Argentines have also made their mark, not only on the playing field, but also as writers and chroniclers of the sport. One such writer was Isabel Hope de Harrington, author of An Irish Criollo, a biography of her husband, Alfredo Harrington, winner of the Argentine Open in 1930 with the 'Santa Paula' team. Another was Laura Isabel (Betty) Cárdenas Lynch de Boadle, author of The Tale of the Hurlingham Club, 1888-1988.
Schools with Irish links have also been avid promoters of polo, such as the prestigious Cardenal Newman school. The school recently won the annual intercollegiate Santa Paula's Cup, which included some players of Irish origin. Indeed many of the players from other schools in the competition also have Irish roots. In the field of polo journalism, Luis Garrahan Jr. is the director of the magazine Buenos Aires International Polo, promoting the successes of Argentine polo to an international audience.
Though he has no Irish roots himself, Juan Carlos Harriott (Jr.), the Argentine considered the best polo player of all time, is married to Susana Cavanagh, the daughter of Olympic champion Roberto Cavanagh. Another Olympic champion, Manuel Andrada, known as the 'Paisano', was married to Isabel Barrett. His grandchildren played a match in the 2007 Argentine Open in Palermo, but did not participate in the Argentine Open itself. Agustín and Juan Manuel Jr. Andrada both have a handicap of two goals.
'La Dolfina', winners of the last three Argentine Opens, has in its ranks Mariano Aguerre, who also has a ten goals handicap and is married to Tatiana Pieres, great-granddaughter of Thomas Garrahan and sister of Gonzalo Jr. and Facundo Pieres. Her brothers are members of the 'Ellerstina' team, who, with their cousins Paul and Matias MacDonough, were runners-up in the 2007 open.
New Generations
Polo in Argentina continues to have a disproportionate number of Irish-Argentines in its ranks. The latest Potrillos' Cup for Under-14s and Potrillitos' Cup for Under-11s [4] brought together many Irish-Argentines. The same was the case with the Juniors Cup, hosted by the Argentine Polo Association, which in 2006 was won by the team 'Glascorn', recalling the name of the ancestral home of the MacLoughlins in County Westmeath. The team was formed by brothers Guillermo and Francisco MacLoughlin, Guillermo Cavanagh Jr. and Nicolás Ruiz Guiñazú. In the 2007 Competition, Francisco MacLoughlin was also a member of the winning team.
In addition to those named, there are many younger Irish-Argentine players with official handicaps, including Ina Lalor, Santiago Kelly Jr., Dylan Rossiter, Edmundo Donnelly, Santiago Trigo Achával O'Farrell, Marcelo Garrahan Jr., Felipe Llorente, Pedro Harrison and Eduardo Seré Kenny. There are also many other players in the under-16 level bearing Irish surnames and assuring Irish links with the sport for many years to come.
Guillermo MacLoughlin Bréard
Acknowledgements
I wish to acknowledge Mr. Chris Ashton's support and assistance, to whom I am greatly indebted.