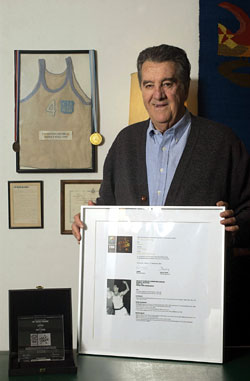 Furlong with the awards he received from
the FIBA Hall of Fame
(Jorge Dominelli/El Gráfico, 2007)
Furlong played his last game on 6 January 1957, when Villa del Parque won 71-52 to Welcome of Montevideo, scoring twenty of the points. The suspension of the golden generation of players at the height of their careers had major ramifications for Argentine basketball. It would be the 1990s before the country would again become a force internationally. One other consequence of this was that it also led to the demise of Buenos Aires as the epicentre of basketball in Argentina.
For Furlong the suspension brought down the curtain on a celebrated career, littered with many ironies, and still in his prime at age of twenty-nine, depriving Argentine basketball of one its greatest talents. In summary, his accomplishments included fifty appearances for the Argentine team, one World Championship, two Olympic Games, two Silver medals in the Pan American Games (Buenos Aires 1951 and Mexico City 1955), the Gold medal in the World University Games of 1953 in Dortmund and six times Champion of Buenos Aires.
Not only is Furlong considered one of the greatest basketball players of all time, but he also excelled in tennis both as a doubles player and manager. Following his suspension from playing basketball, he concentrated on tennis and attained seventh in the national rankings. In 1966 he was invited to join the committee of the Asociación Argentina de Tenis (AAT), becoming vice-president. In the same year he was appointed coach of the Argentine Davis Cup team, a post he held until 1977. His greatest achievement was bringing the team to semi-finals of the Davis Cup in his final year as coach. Players under his tutelage included the legendary Guillermo Villas, the first South American male player to win a grand slam event, who first competed in 1970, and José-Luis Clerc in 1976.
Despite devoting considerable time to sport, he also built up a very successful business concern following his forced retirement from the game. In 1958, the ten-year moratorium on the Furlong family going into business in the transportation sector ended. Oscar, together with his brothers Eduardo and Carlos, founded Transportes Furlong, in Santa Isabel, Cordoba, concentrating on hauling cars from the new Kaiser Car factory. Transportes Furlong grew to become the one of the largest carriers in Argentina.
It was some years before Furlong's immense contribution to basketball was finally recognised, beginning in 1980 when he received one of most prestigious honours in Argentina, the Konex Platinum prize [13] for his contribution to Argentine sport. Other honours followed - he received the Delfo Cabrera prize from the Argentine Senate in 2005 and in the same year was declared a 'distinguished person' by the legislature of the autonomous city of Buenos Aires, along with the other world champions from 1950.
On 1 March 2007, FIBA officially inaugurated its Hall of Fame in Alcobendas, Madrid, Spain and announced its first inductees, who were chosen on the basis of an outstanding contribution to the sport at the international level and an outstanding contribution to the development and status of the sport. Among the first inductees was Oscar Furlong. As a measure of his contribution and standing in the sport, not only did it include such stars such as Bill Russell, the renowned former Boston Celtics player and a contemporary of Furlong in the NCAA, but also, posthumously James Naismith, the founder of the game.
John Kennedy
Acknowledgements
I am extremely grateful to Pillín, the subject of the article, to Eduardo Furlong for adding to my research, and to May Furlong, Willy Fox and Ronnie Quinn for their help.
Notes
[1] Crack is a word in the Rioplatense dialect defined as a person who distinguishes him/herself in an extraordinary manner in an activity: Jose Gobello, Nuevo Diccionario Lunfardo (Buenos Aires: Corregidor, 2003). The footballer Diego Maradona and the rugby player Juan Martín Hernández have been accorded this name in the Argentine press.
[2] Juan Domingo Perón (1895 -1974), Argentine general and politician and three times President of Argentina.
[3] Julio Argentino Roca Paz (1843 -1914), President of Argentina from 12 October 1880 to 12 October 1886 and again from 12 October 1898 to 12 October 1904.
[4] Defined in the Oxford Spanish Dictionary as crafty devil or rascal.
[5] The Argentine national championship was only created in 1984.
[6] Delfo Cabrera (1919 -1981), Argentine athlete and winner of the marathon at the 1948 London Olympics. He was a close friend of General Perón and an active member of Justicialist Party.
[7] Oscar Furlong, Raúl Pérez Varela, Ricardo González, Juan Carlos Uder, Rubén Menini, Omar Monza, Pedro Bustos, Alberto López, Roberto Viau, Leopoldo Contarbio, Hugo del Vecchio and Vito Liva.
[8] The night of the torches.
[9] Juan Manuel Fangio (1911-1995), was a race-car driver from Argentina, who dominated the first decade of Formula One racing in the 1950s.
[10] Jump Shot: A shot performed while jumping in the air in which the ball is released at the highest point off the ground. It is often used when shooting over a defender trying to block the ball.
[11] Eduardo A. Lonardi Doucet (1896-1956), de facto president of Argentina from September 23 to November 13 1955.
[12] Pedro Eugenio Aramburu Cilveti (1903-1970), de facto president of Argentina from November 1955 to 1 May 1958.
[13] The Konex Awards were established by the Konex Foundation in Buenos Aires in 1980 and are awarded on a yearly basis to distinguished personalities in Argentina in every national field.
References
- Arbena Joseph & LaFrance, David G., Sport in Latin America and the Caribbean (Wilmington, Del: Jaguar Books, 2002).
- CABB la historia Argentina en los mundiales (http://www.cabb.com.ar/noticia_ficha.asp?not=320) - accessed 4 January 2008.
- Coghlan, Eduardo A., Los irlandeses en Argentina: su actuación y descendencia (Buenos Aires: author's edition, 1987), pp. 365-366.
- Club Gimnasia y Esgrima de Villa del Parque website (http://www.gevparque.org.ar) - accessed 3 January 2008.
- Furlong Transportes website (www.transfurlong.com.ar) - accessed 30 December 2007.
- Gobello José, Nuevo Diccionario Lunfardo (Buenos Aires: Corregidor, 2003).
- Guterman, Tulio & Gutiérrez Emílio, 'Entrevista a Jorge Canavesi: Entrenador del equipo campeón mundial de básquetbol, Argentina 1950' in EF Deportes digital magazine (Buenos Aires, April 2006 (a) ) (http://www.efdeportes.com/efd95/canavesi.htm) - accessed 30 December 2007.
- Guterman, Tulio & Gutiérrez Emílio, 'Entrevista a Ricardo González, integrante del equipo de Argentina, campeón mundial de básquetbol en 1950' in EF Deportes digital magazine (Buenos Aires, November 2006 (b)) (http://www.efdeportes.com/efd102/rg.htm) - accessed 30 December 2007.
- López Vázquez, Francisco, 'La mágica noche del Luna', Clarín (Buenos Aires), 28 August 2002.
- Lupo, Víctor, Historia política del deporte argentino (Buenos Aires: Corregidor, 2004).
- Naismith Museum website (http://www.naismithmuseum.com) - accessed 4 January 2008.
- O.R.O., 'Cuando la fama no es cuento', El Gráfico sports magazine, no. 4369 (Buenos Aires, December 2007).
- Piccirilli, Ricardo, Francisco Romay and Leoncio Gianello, Diccionario Enciclopédico Histórico Argentino (Buenos Aires: Ediciones Históricas Argentinas, 1954).
- Putney, Clifford, Muscular Christianity: Manhood and Sports in Protestant America, 1880-1920 (Cambridge, MA: Harvard University Press, 2001).
- Rock, David, Argentina 1516 -1987: From Spanish Colonisation to Alfonsín (Los Angeles, University of California Press, 1997).
- Romero, Luis Alberto, A history of Argentina in the Twentieth Century (University Park Pennsylvania, Penn State Press, 2002).
- Trenado, Juan Manuel '50 años: la noche más gloriosa del básquetbol argentino' in: La Nación (Buenos Aires), 3 November 2000.
- Torre, Juan Carlos, Nueva Historia Argentina: Los Años Peronistas (1943-1955) (Buenos Aires: Editorial Sudamerica, 2002).
- Villa del Parque website (http://www.villadelparque.com.ar/rotary/barrio/historia.htm) - accessed 4 January 2008.