According to reports in The Irish Times, foreign minister Dr Garret Fitzgerald came in for particular criticism from the Irish Committee for Chile for not publicly denouncing the proposed tour, as he had done with Irish Rugby Football Union's Lions Tour of South Africa. Despite the protests the tour did go ahead, also including Brazil and Uruguay, with the Republic of Ireland team defeating Chile 2-1. In an interview, Eamonn Dunphy, a member of the Irish team, was to later recall: 'When we went out to inspect the pitch, armed guards ordered us back to the dressing rooms. It was a sobering experience. I think most of the lads in the team realised we were being used then. The stadium was freshly painted for our visit so all traces of blood and torture were destroyed' (Sheehan 2005).
Field Hockey
In the area of women's sport, the most frequent contact has been through field hockey. Many teams from Argentina have visited Ireland and Irish teams have also toured Argentina. In 1959, the Argentine team visited Cork and Waterford and were given a civic reception by the Mayor of Waterford. A commentary in The Irish Times said 'it is a pity these touring sides could not have travelled more extensively throughout the country because their visits have stimulated interest in women's hockey'.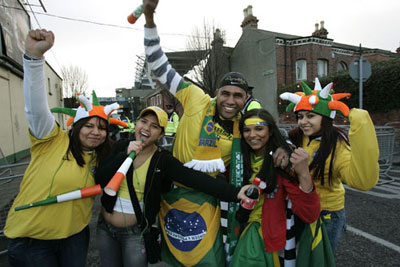 Brazil fans from São Paulo and living in Naas, Co Kildare, near Croke Park before the Ireland-Brazil football match on 6 February 2008. Brazil won 1-0
(Dara Mac Dónaill, The Irish Times, 2008)
Latin American Involvement in Contemporary Sport in Ireland
The potential for any significant migration of sportsmen or women from Latin America to Ireland in recent years has been limited. The dominance of Gaelic games, which assert a distinct Irish identity and are amateur and non-international in character; the small population coupled with a low population density; and the limited attendant advertising, are all factors which have limited the growth of fully professional sport in Ireland. The only team sport that is fully professional is rugby, which has four provincial teams. As the only fully professional sport, rugby does have a small, yet high-profile presence of Latin American players: Felipe Contepomi, star of the Pumas, is the fly-half for the Leinster team; Juan Francisco Goméz, originally from Morón in Greater Buenos Aires, also plays for Leinster; and Frederico Pucciariello from Rosario in Argentina, who was capped for Italy, plays for Munster and was part of the team that won the European Heineken cup in 2005/06.
The extent of the Latin American community's involvement in sport in Ireland, both at a competitive and non-competitive level, is difficult to gauge. At a community level, there have been efforts to set up sports clubs for the significant Brazilian community - a manifestation of this been the establishment of 'Gort for Brazil FC', in Gort, County Galway. Shaughnessy (2007) has shown that there is evidence that there has been some cultural transference as some Brazilian children have taken up hurling.
On a coaching level, the presence of Latin Americans is almost non-existent, though one of the more innovative programmes in youth football in Ireland in recent years has been the emergence of the 'Samba Soccer' summer camp which brings Brazilian coaches to Ireland in the summer months, fostering stronger sporting links between Ireland and Latin America.
John Kennedy
Acknowledgements
I would like to express my gratitude to Ronnie Quinn for his enthusiasm in offering advice and support and above all for providing valuable contacts. I would also like to thank Patricio Connolly of Clarín for his assistance.
Notes
[1] Cornish hurling is an outdoor team sport of Celtic origin, played with a small silver ball. It is similar to handball.
[2] In England the term 'public school' refers to fee-charging independent secondary schools.
[3] The concept first appeared in Emile by the philosopher Jean-Jacques Rousseau, which described physical education as important for the formation of moral character.
[4] Argentina and Uruguay.
[5] In this instance the term means 'local' or 'home-grown'.
[6] Juan Manuel de Rosas (1793-1877) was a conservative politician who ruled Argentina from 1829 to 1852. Rosas was one of the first famous caudillos in Latin America.
[7] Bartolomé Mitre (1821-1906) was President of Argentina from 1862 to 1868.
[8] The AAFL was precursor to the Asociación del Fútbol Argentino (AFA)
[9] It is generally accepted that there are historically two variants of the game: iomán which was played in the southern part of Ireland where the ball could be handled or carried on the hurley, and camán, which was akin to modern field hockey in that it did not allow handling of the ball and was played in the northern part of Ireland.
[10] Home Nation refers to rugby teams from England, Ireland, Scotland or Wales.
References
- Arbena Josephand LaFrance, David G. Sport in Latin America and the Caribbean (Jaguar Books on Latin America, 2002).
- Boca: El Libro del Xentenario (Buenos Aires: Planeta, 2004).
- Burns, Jimmy Barça, a Peoples passion (London: Bloomsbury, 1998).
- Carlin, John 'In the hands of God', Observer Sports Monthly (London), 25 November 2007 – accessed 2 January 2008.
- Club Atlético del Rosario Plaza Jewell, Centenario 1867-1967 (Rosario, 1967).
- Collier, Simon and Sater, William F., A history of Chile 1808-2002 (Cambridge: Cambridge University Press, 2004).
- Coghlan, Eduardo A. Los irlandeses en Argentina: su actuación y descendencia (Buenos Aires: author's edition, 1987).
- Cronin, Ciaran, The Ireland Rugby Miscellany (London: VSP, 2007).
- De Burca, Marcus, The GAA: a history (Dublin: Gill & Macmillan, 2000).
- English, Alan and Stickland, Billy, Munster: Our Road to Glory (Dublin: Penguin Ireland, 2006).
- Garnham, Neal, Sporting Traditions (May 2003) Vol. 19 No. 2 p. 27-48.
- Graham-Yooll, Andrew, The Forgotten Colony (Buenos Aires: L.O.L.A., 1999).
- Holt, Richard, Sport and the British: a modern history (Oxford: Clarendon Press, 1989).
- Hunt, Tom, Sport and Society in Westmeath (Cork: Cork University Press, 2007).
- Jakubs, Deborah, 'The Anglo-Argentines: Work, Family and Identity (1860-1914)' in: Marshall, Oliver (ed.) English-Speaking Communities in Latin America (New York: St. Martin's Press, 2000).
- Lapaque, Sébastien, 'Du Che aux Pumas, rugby passion argentine', Le Figaro 22 October 2007 – accessed online 13 February 2007.
- Lupo, Víctor, Historia política del deporte argentino (Buenos Aires: Corregidor, 2004).
- MacWeeney, Paul, 'Entirely fitting that Ireland first hosts…', The Irish Times, 17 October 1973.
- Marshall, Oliver (ed.), English-Speaking Communities in Latin America (New York: St. Martin's Press, 2000).
- Murray, Edmundo, Devenir irlandés (Buenos Aires: Eudeba, 2004).
- Murray, Edmundo, 'How British Sports Became Argentine Passions', Irish Migration Studies in Latin America (IMSLA), Vol. 3, No. 4: July-August 2005.
- Noguera, Alberto, 'Soccer in Argentina: a lecture' in: Journal of Sport History, Vol. 13 No 2 (Summer 1986), 147-152.
- Raffo, Víctor, El Origen Británico del deporte Argentino (Buenos Aires: author's edition, 2004).
- Resurgimiento Boquense, Historia del Club Atlético Boca Juniors - Website - (http://www.resurgimientoboquense.com/historia/historia.html) – accessed 2 January 2008.
- Richards, Huw, A Game for Hooligans: The History of Rugby Union (Edinburgh: Mainstream Publishing, 2007).
- Rock, David, Argentina 1516-198: from Spanish colonization to Alfonsín (Los Angeles: University of California Press, 1987).
- Shaughnessy, Hugh, From Our Own Correspondent, BBC, 11 October 2007 (http://news.bbc.co.uk/1/hi/programmes/from_our_own_correspondent/7038073.stm) - accessed 29 January 2008.
- Sheehan Maeve, 'How Dunphy landed in hot water over Chile in 1974' in The Sunday Independent.
- Van Esbeck, Edmund, 'Pumas ready to Pounce' in: The Irish Times, 15 October 1990.
- Whelan, Kevin, 'The Geography of Hurling' in: History Ireland, Vol. 1:1 Dublin (1993), pp. 27-31.