O'Connell seems to have been sufficiently inspired by Pentland's example of survival in the midst of adversity to want to follow in his footsteps. An opportunity came when the Englishman, nicknamed El Bombín because of the bowler hat he wore, was poached by the longer-established rival Athletic Bilbao in 1922, leaving the managership of Racing vacant. O'Connell impressed the club's owners by building on Pentland's methods, encouraging the native skills of dribbling with the ball, while training his defenders in the long up-field passing and crosses that he had learnt as a young player in Ireland and Britain. He also placed great emphasis on fitness, discipline and team work. This represented a cultural shift for many Spaniards, on and off the pitch.
The seven years O'Connell spent at Racing were formative years for the club. O'Connell's own experience as a defender proved hugely valuable when during the 1926-27 season a new off-side rule was introduced. He trained his defenders in moving forward so as to isolate the other side's attacking forward and leave him offside when gathering the ball from a pass. His main achievement however was in establishing Racing's rightful claim to be treated as an important football club by its loftier rivals. Thanks to O'Connell, Racing was able to successfully challenge an attempt by a small group of clubs led by FC Barcelona, Real Madrid and Athletic Bilbao to restrict the access of smaller clubs to the new Spanish League. The so-called 'minimalists' wanted the Primera Liga to be composed only of them and three other clubs, Real Sociedad, Arenas and Real Unión de Irún. The 'maximalist lists' made up of all the other smaller Spanish clubs organised a parallel championship which Racing won. A subsequent compromise agreement led to the creation of an expanded Primera Liga in which Racing was among those allowed to play.
Having secured Racing's place in top Spanish football, O'Connell spent two seasons as manager of Real Oviedo in Asturias, once again succeeding Pentland and helping to mould the newly created club into a competitive sporting institution. O'Connell then spent a further three seasons at Real Betis in the Andalusian capital of Seville.
The years 1929-1935 were marked by growing political and social tension in Spain. O'Connell, or Don Patricio as he was now popularly referred to, had become accustomed to his expatriate status, and was seemingly content to maintain a distant if dutiful relationship with the family he had left in England, sending them regular bank transfers drawn from the income he earned as manager. He spent these turbulent years in regions of Spain with a strong tradition of industrial and rural militancy that surfaced in the run-up to the Spanish Civil War.
O'Connell had already moved south when the Asturian miners and other workers staged an attempt at a proletarian revolution, which was brutally repressed by army units led by an ambitious young Spanish officer called Francisco Franco. News of the repression of his former fans in Oviedo would have had for O'Connell echoes of Irish history. This would also have been the case with the stark social divisions he encountered in Andalusia, a region of Spain sharply divided between hugely rich and often absentee landowners and poverty-stricken rural workers. It was in Andalusia, however, that O'Connell had his first direct experience of the thin line that separated Spanish football from Spanish politics.
Betis was one of two clubs in the city of Seville. The other, named after the city, was considered an eternal rival for reasons deeply rooted in the class divisions that plagued the capital. In 1909, Betis was formed by a break-away faction of members of Sevilla FC who were angered by the social exclusiveness of the club's management. The split occurred after a majority on Sevilla's governing board had refused to approve the signing of a young worker as a player on the grounds that he did not have the social standing that was expected for entry into the team. From then on, Sevilla's reputation as 'el club de los señoritos' (the toffs' club) became engrained in local popular mythology, with Betis taking pride in being the club that genuinely represented 'el pueblo' (the people), while at the same time enjoying royal patronage.
Under O'Connell, Betis achieved considerable success on the field. After becoming the first Andalusian club to qualify for the Primera Liga, Betis went on to win the championship on the 28 April 1935 with a crushing 5-0 victory over Racing. The night before the game, which was played in Santander, O'Connell visited the Racing squad at a hotel where they were staying. Racing was down in the league table and had no chance of winning the championship, regardless of the outcome of the game. By contrast, Betis was at the top of the table but had to win if it was not to be overtaken and lose the championship to its main rival that season, Real Madrid.
O'Connell shared a drink or two with his former club colleagues and then suggested that they might do him a favour he would be foolish to refuse: 'You've got nothing to play for tomorrow. You won't kill yourselves to beat us will you?' he asked. The answer from one of the leading players was unequivocal: 'I'm sorry, mister, but Madrid wants us to win. Our president, José María Cossio, is a Madrid fan himself and is offering us 1,000 pesetas per (Racing) player if we win.'
It was perhaps just as well that O'Connell left the matter to rest there, for to have pursued the conversation with an offer of a counter bonus (or bribe) may have led to another abrupt closure on his career, and a critical chapter in the history of Spanish football would have subsequently turned out very differently.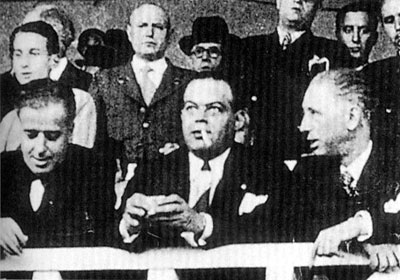 Josep Sunyol (centre) member of the Catalan parliament and President of
FC Barcelona until his execution in 1935 by Francoist forces
(Jimmy Burns, 'Barça, A People's Passion'. London: Bloomsbury, 1999)
For we now enter what undoubtedly represents the most extraordinary period in O'Connell's life, when, after a short holiday in his native Ireland, he returned to Spain, this time as manager of one of the world's great sporting institutions, FC Barcelona. The timing of his arrival in the Catalan capital and his adherence to one of its totemic nationalist organisations suggests that behind O'Connell's ambition to manage one of Europe's leading teams lay the politics of a man prepared not to remain indifferent to the Spanish Civil War.
For O'Connell took up the management of FC Barcelona after Catalonia had emerged as one of the regions in Spain where there was a significant proportion of the population determined to defend the Spanish Republic from the right-wing plotters and their friends in the military. He had arrived in Barcelona in the summer of 1935, days after the football club had elected as its president Josep Sunyol, a parliamentary deputy for the left-wing Catalan nationalist party, Esquerra Republicana de Catalunya. In February 1936 a Popular Front electoral coalition between Communists and Socialists was swept to power, bringing Spain a step closer to the brink of war, with sectors of the military pushing ahead with plans for a coup. The uprising took place on 18 July 1936.