Life changes
Then my life changed greatly. For a long time I had questioned the whole concept of celibacy in the priesthood. It all came to a head for me in 1981 when I decided to opt out of the ministry. With a heavy heart I left the South Andes and settled in Lima where I commenced work with a Peruvian NGO called Servicios Educativos Rurales (Rural Educational Services), an NGO dedicated to the rural population of Peru, the campesinos, the very kind of people I had ministered to previously. Now I would be working with them on a national level, obviously in a different role. This NGO had various areas of work; I began work in the Communications Area where we edited a magazine called 'Andenes' in order to help the campesinos at a national level to be informed on the political, agrarian, social/economic and the cultural and ecclesiastical realities of Peru. I was responsible for a section of the magazine we called Nuestras Costumbres (Our Customs). In that section over the years we published the campesinos' own accounts of their customs, their fiestas, their agrarian rituals, their poetry, their stories and their legends. We also held annual competitions to invite them to paint and draw the reality in which they were living.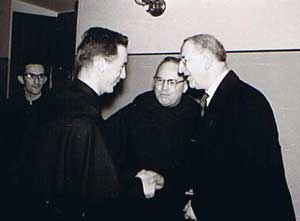 With Eamon de Valera and Fr. Killian Healy in
the Carmelite Theologate, Rome 1961
I remember 1992, the year Spain celebrated what they called the 500th anniversary of the 'discovery' of South America. I think later they changed the wording of 'discovery' to 'el encuentro de dos culturas' (the meeting of two cultures) because of protests from South America against the use of the term 'discovery'. Not that a 'meeting of two cultures' pleased South Americans either, for they saw it more as an invasion or even as a genocide. On that occasion we invited the campesinos of Peru to paint or draw what they felt about the arrival of the Spaniards to their country and the consequences for themselves. I could safely say that it was the first time that native Peruvians had been asked to express their opinions on a topic that had such devastating consequences for them over the centuries. And express it they did, portraying graphically the many forms in which the indigenous population have suffered exploitation and injustices to this very day.

Governments come and go
In the thirty years that I lived in Peru, I saw several governments come and go. When I arrived in Peru in 1964, Fernando Belaúnde Terry was the democratically elected president. Four years later I was back in Ireland on my first holiday back home when one morning after breakfast a fellow Carmelite asked me, 'Des, did you hear, your president had been deported from Peru?' In the early hours of 3 October 1968, a bloodless military coup led by General Juan Velasco Alvarado surrounded the presidential palace. Belaúnde was taken out in his pyjamas and later that day sent on a plane to Buenos Aires. So began twelve years of military dictatorship.
The armed forces have always played a decisive role in Peru's political history. Since 1930 there have been four periods of military rule lasting a total of thirty years. For most of this century the military's political interventions were in support of the right, but during the Velasco government (1968-1975) a new current of reformist nationalism became dominant within the armed forces. The Velasco government implemented a radical programme which marked the first decisive break with the economic model imposed by the Spanish conquest. This involved ending the political domination and economic power of the oligarchy; the modernisation of the Peruvian state and a major expansion of its role in the economy; the search for a more equitable relationship with foreign capital; and major changes in land and property ownership.
Twelve years later, Belaúnde made a comeback when a more moderate General Morales Bermudez moved towards restoring democracy and allowed new elections, permitting Belaúnde to return again to popular acclaim. Belaúnde thus commenced his second term as president in July 1980 in a Peru that differed in fundamental ways from the Peru that he had left abruptly in 1968. The final years of his presidency were marked by the rise of Sendero Luminoso (Shining Path) in 1980.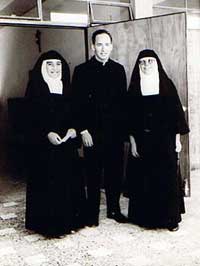 With Carmelite nuns at the
Cieneguilla language institute, 1964
The return to constitutional rule was accompanied by the restoration of formal democratic freedoms but this in itself could not create a democratic society. The government showed no inclination to reform powerful institutions which were suffused with undemocratic practices and a traditional bias towards the rich and powerful. Current affairs programmes on television that were critical of the government had a checkered career, several being removed from the screen by the television companies themselves. During this period the radical subversive group Sendero Luminoso, whose ideological roots lay in a fundamentalist version of Maoism, developed their guerrilla war.
By 1984 real income per capita had fallen back to the level of twenty years before. While all but the small elite became poorer, impoverishment was concentrated in the sierra and coastal shanty towns. This has been a constant reality in Peruvian history. Sendero Luminoso believed that the conditions for revolution existed and that the road to communism in Peru lay through 'a prolonged popular war'. Another subversive but less radical group called the Tupac Amaru Movement also initiated their military campaign in this period. The government's initial response to Sendero and to the Tupac Amaru Movement was to minimise the guerrilla threat, but their counter-insurgency policy soon hardened as a state of emergency was declared in five provinces, later to be extended to many more, and the infamous island prison El Frontón was reopened to hold Sendero suspects. Sendero extended their campaign over a much wider area, including the capital Lima. They destroyed pylons causing regular blackouts in the entire city.
We were living in Lima at that time. It was the first time I experienced collective fear in the city in the midst of blackouts, car bombs and selective assassinations. As popular unrest and social upheaval increased, so did government repression. Eventually Belaúnde handed over total responsibility for counter-insurgency to the armed forces chiefs-of-staff. This internal war was to continue until 2000, throughout the governments of Fernando Belaúnde (1980-1985), Alan Garcia (1985-1990) and Alberto Fujimori (1990-2000). More than 69,000 people died or disappeared at the hands of guerrilla groups, paramilitaries and the armed forces during that internal war.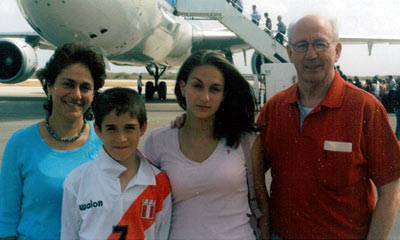 The author with his family in
Bon Aire enroute to Peru, July 2006
A family man
In the midst of all these changes and upheavals my own life continued to change. In 1990 I married a human rights lawyer called Patricia Abozaglo from Lima. We met at my workplace. Our two children Fiona and Patrick were born in Lima, Fiona in 1992 and Patrick in 1994. My work contract was coming to an end in 1995, so we decided to return to Ireland. Initially I was to study for a year in post-graduate development studies in Kimmage Manor, Dublin and at the same time to look around for job options. Fortunately my wife got a job with Tróocaire right away and I got a teaching job in a secondary school in Dublin teaching Spanish, Irish and Religion. We had been in Dublin for four years when we went searching for a house which brought us to our present home in Maynooth, County Kildare, just a forty- minute drive from my birthplace, Kilbeggan, County Westmeath. So indeed I have come full circle. I am back here, from where I set out for Peru some forty years ago. Somewhat wiser I do believe. I am still teaching Spanish which I enjoy greatly. I love introducing people to a new language and opening up to them a whole new world of discovery.
Latin American connections
Since we came back from Peru we have always kept in contact with Peruvians and other Latin Americans who live in Ireland - and there are quite a few. Over the years we have got together for many parties, and now each July we have quite a gathering in Dublin in Terenure College to celebrate Peru's national holiday on 28 July. I suppose it is something like the Westmeath/Longford Association that celebrates their connection with Argentina every year.
Many years ago I visited Argentina and spent a few days in Buenos Aires. I stayed at the Passionist priests' house. I remember at meal time hearing them switch back and forth in their conversation between Spanish and English. There was an elderly priest beside me and when he talked to me in English I could clearly hear his Westmeath accent. He told me that his father - or was it his grandfather - was from Moyvore in Westmeath. Another memory I have with an Argentinean connection is meeting an Argentinean priest in Cuzco years ago. He told me that his parish was in the south of Argentina and that most of his parishioners were of Irish descent. He told me how good they were to him. He invited me to go and visit him and I must say it is one of the regrets I have that I never did get to visit him and meet all those Irish Argentineans and hear their stories. So now you have my story, or at least a good part of it.
Desmond Kelleher