The most significant reason for the minister's reluctance, however, is revealed in the same letter, where Cooney stated that most or all of the group were refugees because they were Marxists, and that a significant proportion were 'activists.' He feared that they would engage in political agitation soon after their arrival in Ireland; 'they will not change their outlook on arrival in this country.' [15] He suggested that such left-wing activists would pose a far greater problem for Ireland than for other Western European countries because of the existence in Ireland of 'a relatively large and well-organised subversive group towards whom such persons could be expected to gravitate.' [16] Cooney proposed some form of screening programme to vet potential refugees. [17] This forced migration of refugees from Chile to Ireland was further complicated by Cooney's suggestion that some of the refugees were in fact non-Chileans who had sought refuge in Chile because it had a communist president. [18]
The Irish state played a minimal role in facilitating their settlement in the country, and for security reasons, the event received muted publicity due to the danger of releasing their names to the Chilean media. The resettlement was privately financed by the Committee for Chilean Refugees in Ireland and by religious groups. [19] The Chileans who had arrived seeking refuge in Ireland were housed in local authority houses in Shannon, County Clare, and in Galway and Waterford, and were allocated places on AnCo training schemes. [20] Many received training in metalwork. [21] After two years, the Committee for Chilean Refugees in Ireland ceased to provide direct aid to the community, ostensibly to promote personal autonomy. [22] It was only in 1977, three years after the arrival of the group in Ireland, that provisions were made for teaching the English language to adult refugees, and even at that stage, only two hours' tuition per week were provided. [23]


Protest against deportation by Chilean refugees in Canada, 1998
(Gunther Gamper)
In response to a parliamentary question in early 1977, a representative for the then Minister for Foreign Affairs, Garret FitzGerald, stated that the minister 'maintained an active interest in the welfare of the Chilean refugees in Ireland and the efforts made on their behalf.' [24] At that time, there were twenty-three Chilean heads of family living in Ireland; a total of ninety-four people. However, the representative underlined the fact that the Department of Foreign Affairs was not directly involved in providing assistance to the Chileans. Local and national authorities were providing assistance to the group and 'considerable progress has been made towards their integration here.' Nevertheless, three years after their arrival in Ireland, the Chileans who had settled in Galway were reported to be experiencing continuing difficulties in finding suitable employment. [25]
Little is known about the daily lives and achievements of the group during their residence in Ireland. Some are known to have continued third-level studies at Trinity College in Dublin. [26] One Chilean refugee, Maite Deiber, whose husband had been arrested and 'disappeared' during the unrest in Chile, went on to become conductor of the Trinity College Singers in Dublin in 1978. [27] Very few of the 120 or so Chilean refugees who arrived in Ireland in the early 1970s remain in the country. They experienced serious difficulties in finding employment in Ireland due to a lack of targeted language or training programmes to facilitate their integration into the labour market. [28] In the late 1980s, the Chilean government announced an amnesty for Chileans abroad who had been exiled by the coup, and many of the refugees returned.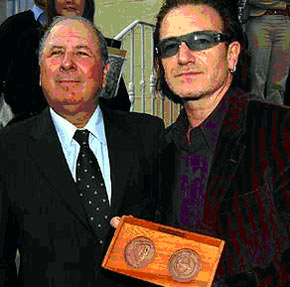 Chilean Ambassador Alberto Yoacham presents the 'Pablo Neruda Medal of Honour' to the Irish rock star Bono, for his contribution to music and humanitarian causes,
23 September 2004
(AP photo/ John Cogill)
Relations between Ireland and Chile are naturally influenced by the activities of Irish migrants in the region during the nineteenth century. While the most significant migration of the twentieth century between the two countries was the small-scale movement of programme refugees between Santiago and Dublin during the 1970s, during the twenty-first century Ireland is likely to be the destination for many more Chilean immigrants. On being awarded an Honoris Causa Doctorate by the University of Chile in 2004, the Irish President Mary McAleese commented on the continuing potential for cooperation between the Republics of Ireland and Chile:
No es casual que Bernardo O'Higgins sea conocido como El Libertador. Estuvo entregado al espíritu de la libertad iluminada. Es mi convencimiento que Irlanda [...] cuenta con un socio legítimo en la República de Chile, con el cual estamos destinados a trabajar más estrechamente a fin de propagar aún más los frutos de ese espíritu de libertad a lo largo de América Latina y el mundo. [29]
However, aside from the resettlement project in 1974, from the 1960s to date, Irish governments have remained remarkably silent in relation to dirty wars and 'disappearances' in Latin America, in contrast to many of the country's European neighbours. Although many victims of forced disappearances in Chile and Argentina had Irish names, - and therefore obvious Irish ancestry - diplomatic and consular services consistently refused to get involved. [30]
Most of the Chileans living in Ireland today are on short-term work permits or have married Irish people and settled here. In 2002, there were a total of eight Chileans working in Ireland on work permits and one Chilean architect on a work authorisation issued by the Department of Enterprise, Trade and Employment. By 2004, this number had increased to twenty Chileans on permits and two professionals on authorisations, and further increased to twenty-four Chileans working in Ireland on work permits and one engineer on an authorisation in 2005. In 2006, however, just five work permits for Chileans were renewed, and six new permits and one authorisation were issued. [31]
Trade between Ireland and Chile has been growing significantly, and was valued at just under €74 million in 2002, a fourfold increase since 1990. Ireland is represented in Chile by an honorary consul, and general diplomatic representation is handled by the Irish embassy in Argentina. The Embassy of Chile in Ireland opened on 1 July 2002, and in October of the same year, the first ever resident Chilean ambassador in Dublin, Alberto Yoacham, presented his credentials to the President of Ireland.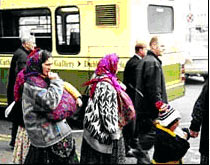 Romanian refugees in Ireland, 2001
(http://www.cnn.com/SPECIALS/2001)
In the years that followed the settlement of the Chilean refugees, many more people arrived in Ireland seeking refuge under UNHCR programmes, including Vietnamese (1979-2000), Iranian (1985), Bosnian (1992-2000) and Kosovar (1999) people in search of safety and freedom from persecution. Ireland is one of only seventeen countries in the world with a programme of refugee resettlement. In mid-2005, the Irish Minister for Justice announced that Ireland was to significantly increase its annual refugee resettlement quota from 10 cases - equating to about forty people - to 200 people per year. In light of the fact that Ireland recognised 966 asylum seekers as refugees and received about 70,000 immigrants during 2005 alone, [32] the resettlement quota remains modest. The implementation of further increases, however, seem likely, as Ireland continues to adapt and develop its policies for the settlement of those who seek refuge on the island.
The twentieth-century settlement of refugees, and indeed other immigrants, in Ireland is a topic that has thus far received little attention in the field of academic research. This is despite the implications of Ireland's history of immigration for the future of the country. The examination of the small-scale settlement of these South Americans seeking refuge in the country may prove informative with regard to future resettlement projects, and sheds light on a little known connection between Ireland and Chile.

Claire Healy